Posted on
Sat, Aug 11, 2012 : 5:45 a.m.
Ex-Michigan tight end Kevin Koger coaching at Saline while preparing for the NFL
By Matt Durr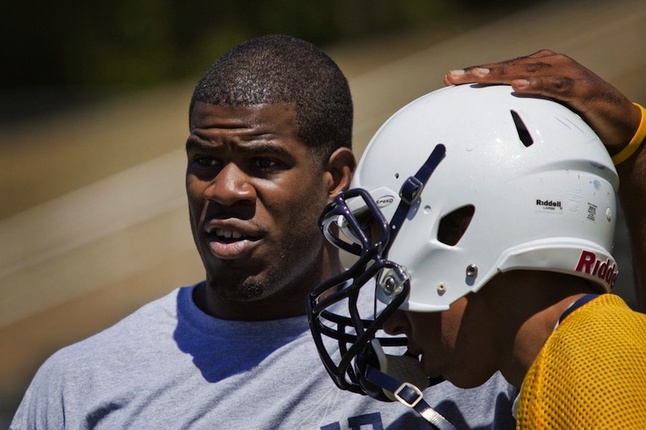 Jeffrey Smith | AnnArbor.com
Kevin Koger
was looking for a way to keep busy. A
torn left Achilles tendon
all but eliminated any chance the former University of Michigan tight end had of being drafted or signed by an NFL team April, and there isn't a lot he can do on a football field until it heals.
Luckily for the former Michigan football captain, his former high school coach has been able to help keep him involved in the game.
Joe Palka, who coached Koger at Toledo Whitmer (Ohio) High School, was hired last year to be head coach at Saline High School. Palka brought on his former star wide receiver as an assistant coach when Koger's goal of playing professional football was put on hiatus.
"My number one goal is still to make it to the NFL and I needed something to do in the meantime," Koger said. "I asked coach if there was any way I could help. It worked out for the best."
It helped that Koger knew Palka's offense inside and out by day one on the job.
Koger, a 2008 Whitmer graduate, played under Palka for two years and holds school records for career receiving yards (1,210), career touchdown receptions (16) and single-game receiving yards (210). According to Palka, having that experience on the sidelines will help Saline as it institutes a new offense this season.
"He's been huge, he already knows the signals better than anybody else," Palka said. "He knows exactly what I'm looking for. It's going to be a huge bonus for us."
Koger started watching the team last spring when he was interning with Saline athletic director Rob White. After attending a couple practices, Koger asked Palka if he could help.
It didn't take long for Koger to get back in the swing of things.
"It helped that I played in the spread offense for an additional three years in college. The signals were coming back to me easily. It's like riding a bike again," Koger said.
Aside from knowing the offense, Koger has been able to give players advice on more than just Xs and Os.
"It's fun to be out here on the other side of coaching," Koger said. "It gives you another perspective and I can relate with the players well; I know what they are going through."
Being able to help the team adapt to the changes ahead has been rewarding for Koger who has only just begun taking the next step toward the NFL.
"I started jogging two-and-a-half, three weeks ago, so it's definitely getting stronger. My calf is starting to fire," Koger said. "I'm somewhere between a jog and a sprint. I haven't been doing much cutting yet."
As for a timetable for a return to the field, Koger has a goal in mind, but won't commit to a specific time.
"Hopefully by sometime in late October, early November or mid-November I'll be healthy enough to try out for some teams," Koger said.
Palka said he expects Koger to be with Saline for the majority of the season, but hopes to see him leave to fulfill his dream.
Projected as a fifth to seventh round pick prior to his injury, Koger said that a few NFL teams have expressed interest in him once he's healthy, including the Baltimore Ravens and the New Orleans Saints.
"During the process they said 'when you're healthy, just give us a call and we'll give you a tryout,'" Koger said. "My agent is handling that right now and I'm just trying to work toward that while helping these young guys."
Matt Durr covers sports for AnnArbor.com.