Posted on
Sat, Dec 22, 2012 : 6:08 a.m.
Former Pioneer assistant Rich Marion makes first trip back to old school as Lincoln's head coach
By Kyle Austin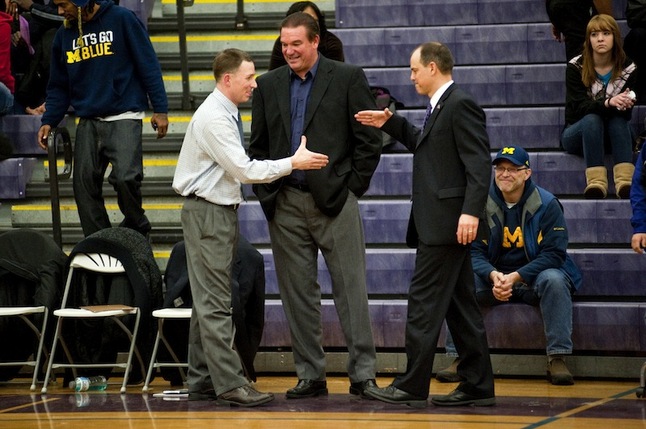 Joseph Tobianski | AnnArbor.com
When Rich Marion looked from the Lincoln bench to the Pioneer side of the gym Friday night, just about every face was a familiar one.
There was head coach Rex Stanczak, who he coached under for four years at Pioneer before moving to Lincoln this season.
There were the players on the bench who he's coached through their entire high school careers.
And in the bleachers was a large group of former Pioneer players that had come back to be honored at halftime.
"It was fun seeing those guys," Marion said.
Marion made his first trip back to Pioneer Friday as a head coach, as the Pioneers topped Lincoln, 54-40.
While both head coaches enjoyed the reunion, it was a game that produced some mixed emotions on the sidelines.
"It was great, I love seeing him, he's a really good friend of mine, but it was weird," Stanczak said. "It was difficult. Obviously you always want to win and you're a competitor and all that, but it's a little different when it's a good friend on the other sideline."
The weird part came in the similarities in the two teams' offensive systems, and how well each coach knew one another's.
"Lincoln is us, it's the same system," Stanczak said. "We have different calls but it's the same stuff. We've coached together for the last four years and grown together as coaches I think. We do a lot of similar things, which made it strange."
Marion kept that in mind when he ran his team's offense.
"They're similar," Marion said. "I specifically tried to run some things tonight that they maybe have in their package but they don't run very often.
Marion and Stanczak weren't the only connection between the two schools in Pioneer's gym Friday night. Pioneer athletic director Eve Claar is in her first year back at Pioneer after spending the last three at Lincoln. And Pioneer starting point guard Duane Simpson-Redmond transferred from Lincoln to Pioneer after his freshman year.
Pioneer and Lincoln will be in the same gym again Saturday, when they both participate in the Romulus Holiday Tournament. Lincoln will take on Detroit Catholic Central at 1 p.m. and Pioneer will take on Detroit Southeastern at 7:40 p.m.
Kyle Austin covers sports for AnnArbor.com. He can be reached at kyleaustin@annarbor.com or 734-623-2535. Follow him on Twitter @KAustin_AA.