Posted on
Thu, May 10, 2012 : 5:36 p.m.
Former Skyline quarterback Andrew Copp to play college hockey for Michigan
By Pete Cunningham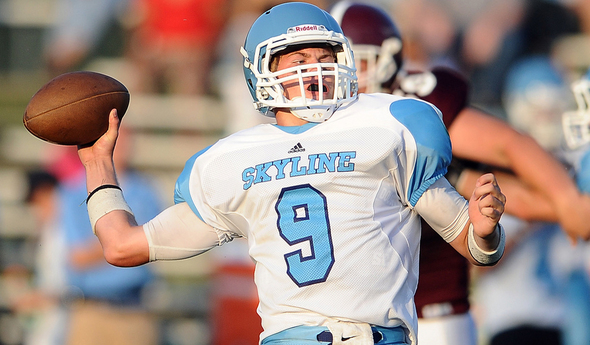 It wasn't long ago that Andrew Copp was living a nightmare as he laid on the Skyline High School football field, writhing in pain after breaking his collarbone on a quarterback keeper.
Tuesday a dream came true. Copp accepted a scholarship offer to play for the Michigan hockey team.
"It's always been a dream of mine to play at the University of Michigan," said Copp, a 6-foot, 185-pound forward with a left-handed shot.
Copp said he was unsure if he'd be able to fulfill his dream of playing college hockey immediately after high school when he suffered the injury during the football season.
"There was definitely a question in my mind. But I knew my ability and my work ethic that I could come back from it," said Copp, who also had offers from Western Michigan, Nebraska-Omaha and Miami (Ohio).
Many college hockey players play juniors for a year or two immediately after high school, which was what Michigan's offer to Copp was originally. But Copp wanted to go straight to school and when that offer became available he jumped at it.
"(Michigan) really showed that they wanted me and recruited me really well," said Copp, who last month, won a World Championship with Team USA's Under-18 squad.
"Having an opportunity as a true freshman was a big part of it. ... The thing I loved about playing football was playing for your school and that's not something you get in USHL, ECHL or in Canada."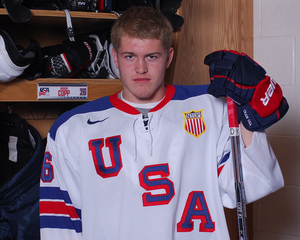 Tom Sorensen | USA Hockey
One of two Ann Arbor natives in the USA Hockey National Team Development program, Copp was allowed to attend Skyline and play football, even though players with the program typically attend Pioneer High School and aren't allowed to play other sports.
Before his injury, Copp passed for 1,732 yards and 27 touchdowns and set a state record for yards in a game (557) before having his season ended by a broken collarbone.
Earlier in the year, Copp said he hadn't decided between college football, college hockey or playing juniors hockey. After his injury, he made his final decision to give up football.
He said the thing he'll miss most about playing quarterback is being in control on every play.
"Quarterback, it's like if you screw up, it's all on you and I liked that," Copp said. "Hockey, it's more of a team effort."
Michigan is still in the market for a goalie.
Contact Pete Cunningham at petercunningham@annarbor.com or by phone at 734-623-2561. Follow him on Twitter @petcunningham.