Posted on
Mon, May 6, 2013 : 3:14 p.m.
Ex-NFL, Willow Run player Lamanzer Williams hired as Ypsilanti Community Schools athletic director
By Kyle Austin
The newly formed Ypsilanti Community School District is launching its athletic program by bringing back one of the area's most prominent former players.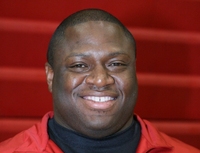 Lamanzer Williams, a 1993 Willow Run graduate who went on to become an All-American college football player and went on to play in the NFL, has accepted the position of athletic director and assistant principal at YCS, the district announced Monday.
Williams has spent the last 13 years coaching football at multiple Michigan high schools and the last two as an athletic director, most recently at Holland High School in 2012.
"It's really a huge thing, I consider it a dream job," Williams said. "It's athletic director slash assistant principal, and just being able to be instrumental and being a major piece of bringing the district back to athletic dominance."
Williams was hired after the district reviewed several internal candidates, including both current athletic directors at Ypsilanti and Willow Run, Matt Seidl and Jon Zajac. YCS is being formed from a merger between the Ypsilanti and Willow Run school districts.
"We had many fine candidates for the position but we felt that Mr. Williams possessed an edge with his education and experience, that spans from being a professional athlete to a high school dean," Washtenaw Intermediate School District Superintendent Scott Menzel said in a statement. "He has many strong qualities that will make him a good fit for the type of athletic program we plan to build at Ypsilanti Community Schools."
One of Williams' first task will be getting coaches hired for the fall sports, with official practices beginning in about three months. Willow Run athletic director Seidl said he and Ypsilanti High School athletic director Zajac chaired committees that interviewed internal coaching candidates last week and passed on recommendations to Menzel.
None of those hires will be of more importance than for the football program, and Williams didn't rule himself out as a possible candidate for that job.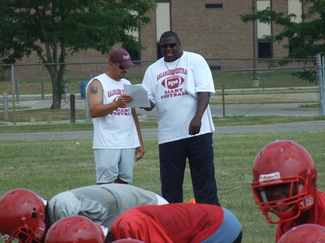 AnnArbor.com file
"Right now, it's sort of up in the air," Williams said. "I know we wanted to give all of our internal candidates the respect and the opportunity to be considered initially. I guess myself and the administrative staff would have to go through the applicants and decide if there's someone that's a good fit."
But whether or not he's coaching the program or not, Williams said he will take a strong interest in turning around a new combined football program formed from an Ypsilanti team that went 1-8 last year and a Willow Run team that went 2-7.
"Football is also going to be a huge breadwinner because of the amount of people it can attract," Williams said. "I know our program has been on a steady decline, and so now we're looking to turn that around."
One of the reasons for the decline of not only football but other Ypsilanti and Willow Run sports is the impending uncertainty regarding the merger, which was approved by voters in November.
Williams said the uncertainty of sports in the new Ypsilanti Community Schools has led multiple key athletes to transfer to neighboring districts for athletic reasons.
"It's sort of been open season on our athletes," Williams said. "All the surrounding communities have benefitted from that. What we have to do is advertise a brand and a systematic program where we can get our top athletes back, and not only get our top athletes back but attract the top athletes in the area."
After graduating from Willow Run, Williams went on to become an All-American defensive lineman at Minnesota in 1997, and was drafted by the Jacksonville Jaguars in 1998. He spent four seasons in the NFL and later played in Europe.
He returned to the area following his playing career, and began helping out with his old high school program.
After eight years helping at Willow Run, Williams spent two seasons as the head coach at Kalamazoo Central in 2008 and 2009, going 8-10 overall. After one season as an assistant in Muskegon, he spent the 2011 season as the athletic director and football coach in Inkster and the 2012 season as the dean and football coach at Holland.
While Williams' last five years have included four different stops, he said this job is one he plans on staying in for a long time.
"Everywhere I've been, I've come home to Ypsilanti every single weekend of every year," Williams said. "It was just one of those things like 'Wow, you will finally be here helping to fortify your community.' I can relate to the kids, they have an idea of who I am, I've been around for years. I just felt like it was a perfect fit."
Kyle Austin covers sports for AnnArbor.com. He can be reached at kyleaustin@annarbor.com or 734-623-2535. Follow him on Twitter @KAustin_AA.