Posted on
Sat, Dec 29, 2012 : 5:57 a.m.
Former Ypsilanti star Derrick Richardson key in CMU's attempt to upset No. 2 Michigan
By Pete Cunningham
The Central Michigan men's basketball team will roll into Ann Arbor on Saturday and try to become the first blemish on No. 2 Michigan's undefeated record. There will be a player on the court local high school basketball fans should recognize with 2012 Ypsilanti High School grad Derrick Richardson suiting up for the Chippewas.
Richardson, a member of last year's AnnArbor.com All-Washtenaw County Dream Team was first-year Central coach Keno Davis's first commitment. When Richardson committed to CMU, Ypsilanti coach Steve Brooks predicted he would one day be the face of the program.
That process is coming along faster than expected with Richardson already averaging 19.8 minutes a game, 4.9 points and 2.4 rebounds. He's played in every game so far.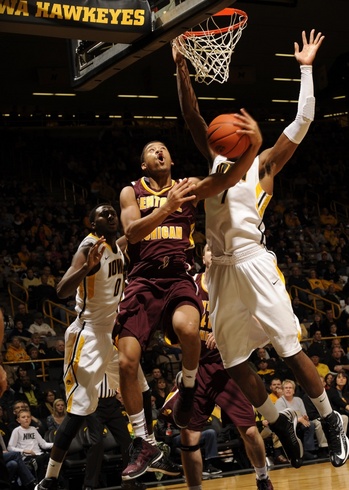 Photo courtesy of CMU athletics
"I thought it'd take me a lot more time (to get used to the college game), but this staff is really pushing me to be the best I can," said Richardson, who has already added 15 pounds of muscle to his 6-foot-3 frame since arriving in Mount Pleasant.
But there was a reason Davis offered the then 175 lbs. guard a scholarship the very first time he saw him workout last spring.
"I expected him to compete right away," Davis said. "His skill set thrives in an up-tempo open court style and I think that's why you've been able to see him have success early on in his career.
"Most coaches when recruiting, they're looing for the right fit for their program and we're all looking for that individual whose working extremely hard at all times on the court," Davis said. "Practice, game, or a 6 a.m. workout, it doesn't matter that's what you're going to get from (Richardson)."
Richardson was arguably Washtenaw County's best defensive player last year, and was always tasked with defending the opponents' best player, positions 1-4. That defensive game has served him well so far at Central, and he's even showed he can score the basketball, putting up 14 points when Central lost to Iowa and 10 in a loss to Utah.
Though he only scored four points, Richardson shined down the stretch in a 66-64 win over Niagara with two steals and some big rebounds in the final minutes.
AnnArbor.com file photo
"Some people don't understand that at the high school level, sometimes there's more to it if a player isn't putting up huge games every night," Brooks said. "His success in college so far, it just shows how much of a team guy he was for us, willing to do whatever we asked him to lead this team."
Brooks and the Ypsilanti players and coaches will be at the Crisler Center cheering Richardson on Saturday (7 p.m., Big Ten Network) as will several members of Richardson's family including his father and aunt. His father is a Michigan graduate and his aunt a big Michigan State fan, so Richardson said he grew up cheering for both teams.
Those loyalties won't be split on Saturday as both will be behind the Chippewas.
"It feels great to come home and get to play in front of thousands of fans and get to have family there to support me," Richardson said.
Pete Cunningham covers sports for AnnArbor.com. He can be reached at petercunningham@annarbor.com. Follow him on Twitter @petcunningham.