13-year-old quarterback Marquis Smith leading Willow Run varsity football team
Posted on Sun, Sep 23, 2012 : 5:30 a.m.
Daniel Brenner | AnnArbor.com

Willow Run quarterback Marquis Smith accounted for 562 yards of total offense on Friday night, passing for 436 and rushing for another 126.

Considering the gaudy stat line, it's hard to believe that heading into the season, head coach Rufus Pipkins didn't think Smith would even be his starter.

But then again, why would he? Smith is only 13 years old and at the time of the first game this season, had not even taken a high school class yet.

"I wasn't a believer. I said 'He's doing it against us, and some younger kids. It's not going to translate,'" Pipkins said. "Then he made a play in that first game against Saginaw (Buena Vista) where I knew that he had it."

Maybe it was the 68-yard touchdown pass, or the 38-yard touchdown run in that first game that convinced Pipkins of his quarterback's ability.
HIGH SCHOOL FOOTBALL
BABY FACE, MAN'S GAME
Be sure to check back on Monday
as AnnArbor.com photography intern Daniel
Brenner takes an in-depth look at the life
of 13-year-old Willow Run freshman
quarterback Marquis Smith, on and
off the field.
Since that first game, Smith has continued to be the epitome of a dual-threat quarterback. So far this season, Smith has thrown for 1,376 yards and five touchdowns while completing 50.5 percent (51-of-101) of his passes. He has also run for 476 yards and five touchdowns on just 33 carries.
"It's like a miracle. I'm just doing my job and doing whatever coaches ask me," Smith said with an infectious smile. "When you work hard, you get a lot. I've been working hard and giving my team all I got."
Smith started playing Pop Warner football when he was seven and continued through last season. With little to no previous experience with the coaches at Willow Run, Smith said he didn't think he would get the starting job as a freshman.
"I knew I could do it, but I didn't plan on it. I planned on working my way up as I went through school," Smith said.
Pipkins said it was the young man's work ethic and calmness that impressed him the most over the summer.
"He was here every day," Pipkins said. "And everyday he is getting better as a football player. He really absorbs everything we give him. He's a sponge.
"He has a subtleness about him that allows him to stay calm. Nothing really rattles him. He doesn't get too far up or too far down."
As excited as he was to join the varsity team, Smith admits there has been a couple bumps in the road.
"Timing myself and just knowing how to take a hit and deliver the ball. Getting the ball out to my teammates," Smith said. "It's a lot of practice, but hey, you got to get it done."
Pipkins has been hesitant to throw too much at his young quarterback. Pipkins said that he is being cautious about overloading Smith with too much too soon.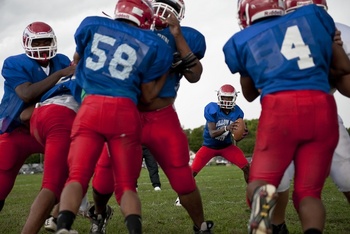 Daniel Brenner | AnnArbor.com
"We just gave him a little bit. Our whole package is big and we only gave him maybe a third of it. Right now he's being successful with what we've given him so far," Pipkins said.
Both Smith and Pipkins said the rest of the team has been very receptive to being led by a freshman.
"I see them as my brothers. I just go out there and do what I got to do and we do it all as a team," Smith said.
Willow Run is 2-3 on the season after a 44-23 loss to Detroit Community on Friday.
While Smith at times seems well beyond his years in terms of talent, he still has freshman moments, like his two interceptions against zero touchdown passes on Friday. And like missing practice to attend a Detroit Tigers game the day before.
But for his part Smith is just happy to playing varsity football.
"This is my dream. I just want to make my mom happy."