Posted on
Fri, Oct 5, 2012 : 11:27 p.m.
Saline, Milan win big, Lincoln loses by one and more Friday night football results
By AnnArbor.com Staff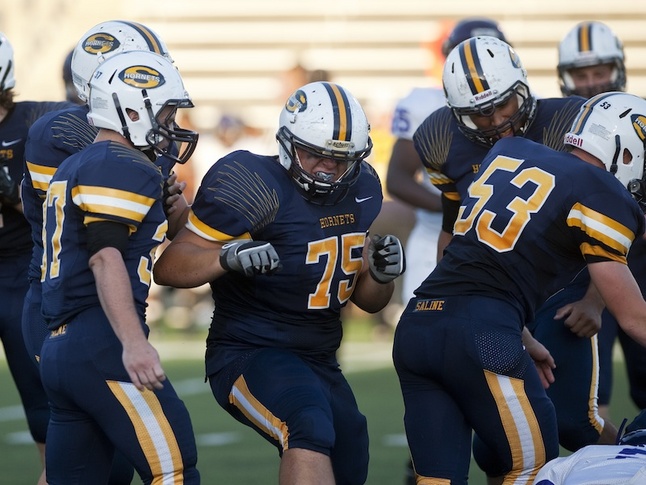 Daniel Brenner | Annarbor.com
This file will be updated
AnnArbor.com Washtenaw County Scoreboard:
Saline 41, Huron 0
Story | Boxscore
Saline (6-1, 4-1 SEC Red) clinched a postseason appearance with a convincing victory against winless Ann Arbor Huron (0-7, 0-5 SEC Red).
Quarterback Tyler Palka led the way for the Hornets, going 11-of-21 for 121 yards and a touchdown in the air, and 15 carries for 82 yards and a score on the ground. Kevin Gross and Griffin Wooley gained 83 rushing yards and one touchdown apiece.
Bedford 34, Skyline 12
Story | Boxscore
Skyline's Askaree Crawford rushed for 43 yards on 13 attempts and teammate Terry Jackson rushed for 26 yards on two attempts with one touchdown.
"Getting these youngsters experience will be great for the future," said Skyline head coach Lee Arthur. "We have to take our growing pains and do as best we can. Get a little bit better today, and a little bit better next week."
Temperance Bedford (4-3, 3-2 SEC Red) took a 21-6 lead at halftime. Willie Elam scored on a 2-yard run in the second quarter to get Skyline's (2-5, 1-4 SEC Red) first score of the game.
Adrian 26, Lincoln 25
Ypsilanti Lincoln fell to 4-3 overall, 2-3 SEC White, while the Maples improved to 3-4 overall, 3-2 SEC White.
Further details not available.
Milan 38, Riverview 13
Story | Boxscore
Milan moved to 7-0 (6-0 Huron League) after a league win over Riverview. The home team scored once in the first quarter before posting 25 points in the second frame for a 31-0 halftime lead. Riverview answered with 13 second-half points.
Milan faces Carleton Airport (5-2, 4-2 Huron League) next week.
Manchester 51, East Jackson 24
Story | Boxscore
Nick Cozart and Jim Kurasz combined for eight touchdowns and rushed for more than 340 yards to put Manchester one win away from a playoff berth. The victory sets up a huge matchup next week with Michigan Center, which is 6-0 in the Cascades Conference.
Cozart scored on a 3-yard run and a 16-yard pass from Ryan Stiles in the first quarter and Kurasz added a 6-yard scoring run in the second quarter to give Manchester (5-2, 5-1 Cascades Conference) a 20-0 halftime lead.
River Rouge 60, Willow Run 0
Story | Boxscore
River Rouge improved its record to 7-0, 6-0 Michigan Metro Athletic Conference. Willow Run is 2-5, 1-5 MMAC play.
Ypsilanti Willow Run coach Rufus Pipkins said high point for his team was forcing River Rouge to three-and-out in the first series.
"We knew the caliber of team we were playing," Pipkins said. "I'm not disappointed with the kids at all. We have a young team and they gave a good effort."
Ottawa Lake-Whiteford 37, Whitmore Lake 8
Details not available

Annarbor.com coverage:
Monroe 19, Pioneer 12
Story | Boxscore | Photo Gallery
Chelsea 31, Tecumseh 28
Story | Boxscore
Game of the Week: Ypsilanti 13, Dexter 7
Story | Boxscore | Gallery | Sylla makes a difference in win
Vote for next week's Game of the Week. Fans can vote once per hour until the poll closes at 6 p.m. Tuesday.