Posted on
Fri, Aug 24, 2012 : 11:42 p.m.
Saline knocks off state power Walled Lake Western and more Friday football results
By AnnArbor.com Staff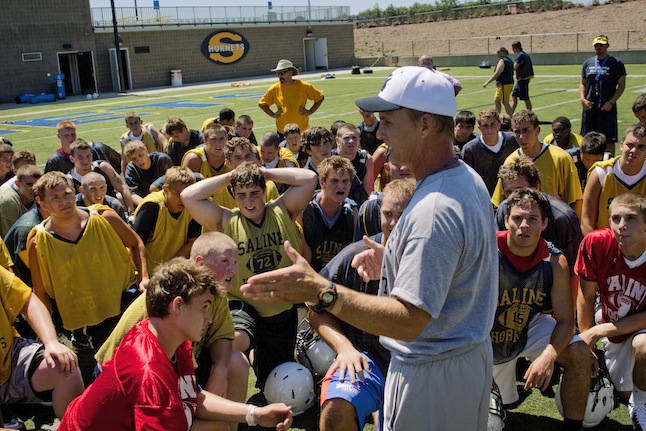 Jeffrey Smith | AnnArbor.com
AnnArbor.com Washtenaw County scoreboard
Saline 27, Walled Lake Western 14
Statistics and game details not available.
In their first game under coach Joe Palka, the Hornets defeated Walled Lake Western on the road. Western made it all the way to the Division 2 state semifinals in 2011.
Ypsilanti Lincoln 34, Belleville 21
Statistics and game details not available.
Lincoln beat Belleville for the second year in a row in the season opener making it the first time since 1997-98 that the Railsplitters won the first game of the season in back-to-back years.
Salem 41, Ann Arbor Huron 17
Statistics and game details not available.
For the eighth year in a row, Huron begins the season 0-1.
Jackson Lumen Christi 34, Chelsea 27
Story | Boxscore | Photo Gallery
Whenever Jackson Lumen Christi needed a big play Friday night, all the Titans had to do was run the ball. They certainly had no shortage of capable runners.
Running backs Amani Bass and Isaiah Bleiler, quarterback Justin O'Dowd and wideout Nick Girodat took turns coming up with big runs, moving the chains and scoring touchdowns and stayed one step ahead of the Chelsea Bulldogs.
Hartland 42, Ann Arbor Skyline 19
Story | Boxscore
Skyline's first game of the season went from a first-quarter battle to a Hartland-centric game in the second.
The game started with a 68-yard punt return by Hartland, and a missed extra point. Skyline's Marcus Wallace then received a 78-yard pass from quarterback Askaree Crawford to tie the game. Kicker Tori Norris delivered an extra point to put Skyline in the lead.
Fowlerville 29, Dexter 0
Story | Boxscore
Andy McWilliams led Dexter with 57 yards rushing on 14 carries.
Paul Bailey finished with 8.5 tackles to lead Dexter defensively, and Keoni Koch and J.P. Birmingham each made 7.5 tackles for the Dreadnaughts.
Clinton 32, Manchester 14
Story | Boxscore
Quarterback T.J. Baker and running back Colin Poore combined for six touchdowns as Clinton turned a 20-0 halftime lead into a big win.
Baker finished with 120 yards rushing and passed for another 100 yards, while Poore finished with 140 yards rushing on 14 carries.
Stockbridge 67, Whitmore Lake 20
Story | Boxscore
Stockbridge junior quarterback Kaleb Grammer completed 21-of-30 passes for 311 yards and four touchdowns, while adding 55 yards and another score on the ground.
Stockbridge senior receiver Devon Allen caught eight passes for 209 yards and four touchdowns. Teammate Lucas Showerman added nine catches for 80 yards.
Milan 42, Ypsilanti 8
Story | Boxscore
What a difference a year can make.
The Milan High School football team opened its 2012 season with a 42-8 win against visiting Ypsilanti on Friday night. The performance was a complete turnaround from last season's 22-0 loss to the Phoenix.
Warren De La Salle 35, Pioneer 7
Story & Photo Gallery | Boxscore
There was as much University of Michigan maize as Ann Arbor Pioneer purple in the bleachers at Hollway field Friday night as fans turned out to see Michigan quarterback commit Shane Morris and Warren De La Salle take on the Pioneer High School football team.
Morris showed off his big arm, throwing for 178 yards and two touchdowns on 14-of-26 passing, but it was the De La Salle defense that dominated the night, allowing Pioneer just 211 yards of offense in the 35-7 win.
Most of those 211 yards came after De La Salle's backups were in late in the fourth quarter.