Posted on
Tue, Mar 26, 2013 : 5:59 a.m.
Ypsilanti custodians, community help send high school basketball star to national business competition
By Kyle Austin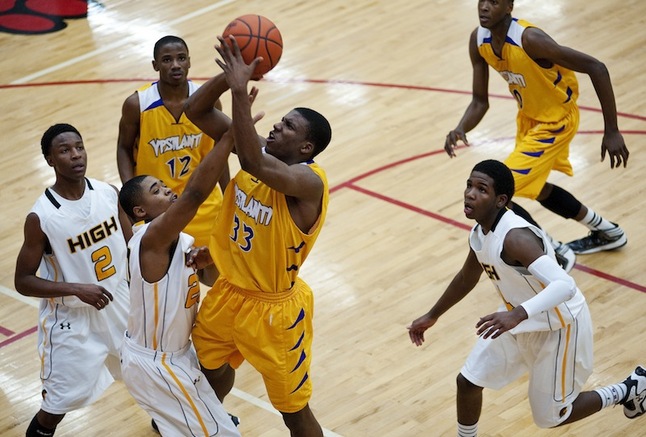 Daniel Brenner | AnnArbor.com file photo
Minutes after his Ypsilanti High School team ended its longest state tournament run since 1981, falling to Saginaw High in the state quarterfinals Tuesday, senior forward Lavonte Davis reflected on the feeling of playing for his community.
"We put a community on our back, and we tried to carry our community as far as possible," Davis said Tuesday in a hallway at Grand Blanc High School.
A week later, Davis' community is carrying him.
Two days before the state semifinal game, Davis was at the DECA State Career Development Conference in Grand Rapids, competing along with six of his classmates in the statewide business competition.
And the same week he helped his team win its first basketball regional title in decades, he achieved something no student at Ypsilanti High School ever has: a DECA state championship and a spot in the International Career Development Conference.
The only catch: the conference is in Anaheim, Calif., and the trip will cost $2,500
So on Wednesday, Davis and his business teacher Dorothy Kryskowski created a page on the website GoFundMe, to solicit donations from the community.
By Monday, five days later, more than $2,300 had been raised.
"It really almost brought me to tears when I saw it," Davis said. "People always say the Ypsilanti community doesn't care, the Ypsilanti community doesn't support each other, but that's a lie. The support that I got from the Ypsilanti community was amazing, it's something that I'll never forget.
Davis has until April 10 to raise the money for the event, which will go toward airfare, lodging and registration fees. He only needs 400 more dollars to get there.
The donations rolled in from more than 40 people, friends and strangers alike. One donor wrote that "I don't know you but I feel like I do from watching you play basketball," and gave $50.
The biggest single donor: the Ypsilanti High School custodians, who together gave $500 toward the trip.
Davis said he's formed a kinship with the school's custodians and tries to never take them for granted, sometimes helping them clean the cafeteria. He even learned a few post moves on the basketball court from one.
"They work really hard, and if something's wrong with the school they're always on it," Davis said.
Their donations will help him compete among the nation's top business students in DECA's annual international competition.
Davis, who will attend Northwood University in Midland, Mich. on a basketball scholarship, competes in the sports and marketing series. In competitions, he is given the role of a person involved in a business scenario -- one time he was a college athletic department employee, another time he was a concert organizer -- and must solve a problem while demonstrating an understanding of business and marketing concepts.
"It's like you're selling a product every time, so you're selling your idea with that person," Davis said.
And the competition fits well with Davis' future dual roles: a future college athlete and business major.
"It's really helped me a lot," Davis said. "It makes you really use your head a lot."
Kyle Austin covers sports for AnnArbor.com. He can be reached at kyleaustin@annarbor.com or 734-623-2535. Follow him on Twitter @KAustin_AA.