Gabriel Richard rivalry game with Pontiac Notre Dame Prep is Metro Detroit 'Game of the Week'
Posted on Thu, Sep 13, 2012 : 3:30 p.m.
While the Pioneer vs. Saline football game on Friday will be the AnnArbor.com "Game of the Week", Father Gabriel Richard's game against rival Pontiac Notre Dame has piqued the interest of MLive.com readers in the Metro Detroit area.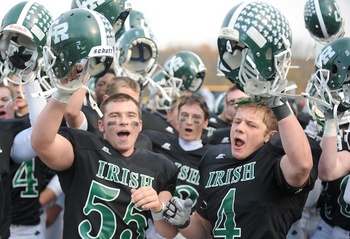 AnnArbor.com file photo
The rivalry game is the
Game of the Week for the Metro Detroit Region.
The game garnered 871 of the 1,097 total votes (79.4 percent).
Just like the AnnArbor.com Game of the Week, the game will receive the Super Bowl treatment from the MLive.com Metro Detroit staff on Friday complete with a live chat, photos and stories from the game.
The live chat will be on the MLive.com Metro Detroit high school home page.
As MLive.com's Jared Purcell wrote in his preview of the game, Pontiac Notre Dame coach Kyle Zimmerman hasn't needed to say much to get his team up to the challenge of following up the success of last year's undefeated season.
"They know that last year was a great year," Zimmerman said of his players. "But they came in and decided as a group that they wanted to take it to another level."
Father Gabriel Richard had only two losses last season, and both came to its chief rival, including in the Catholic League championship game at Ford Field. If Richard is going to get a different result this year, it will likely need starting quarterback Joe Kendzicky to do so. Kendzicky has been out the past two weeks after suffering an injury in the season opener.
Though Richard had a tough game in its opener with Lake Fenton, the past two weeks have been easy wins, 24-8 over Whitmore Lake, and 53-0 over Tawas Area. Notre Dame Prep, meanwhile was battle tested in Weeks one and three, which Zimmerman feels bodes well for his teams.
"Our first and third weeks were wars," Zimmerman said. "They've got some great game experience. They should be ready to go now."
Game of the Week Live Chat
You can join the Game of the Week live chat by downloading an app for youriPhone or Android device.