Posted on
Fri, Jan 6, 2012 : 10:45 p.m.
Buzzer-beater hands Manchester girls basketball team its first loss
By Matt Durr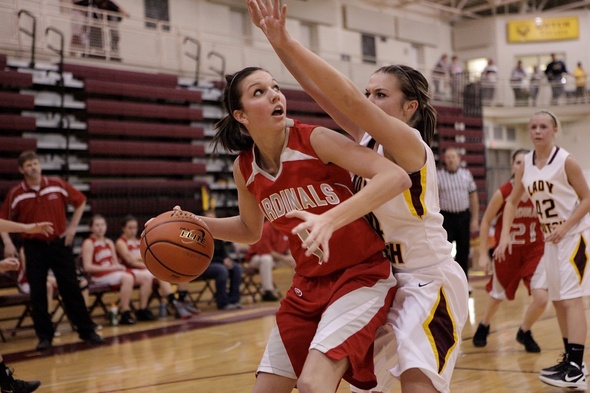 Chris Asadian | AnnArbor.com
As Michigan Center point guard Maegan Branham grabbed a rebound with her team trailing by one point and the clock running out, she knew what she had to do.
"I just knew that I had to hurry up and grab it and get a shot up," Branham said
She did, and more importantly, she made the shot as time expired, completing a shocking come-from-behind victory over previously unbeaten Manchester, 46-45, Friday night.
"We were out of timeouts and we're lucky we had a veteran point guard," said Michigan Center coach Scot Furman. "She never gave up and made a big play."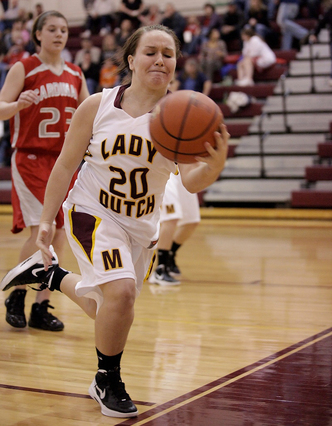 Chris Asadian | AnnArbor.com
A bit of controversy preceded Branham's game-winner. Manchester appeared to take a 46-44 lead on a free throw by
Holleigh Frey
, but officials ruled that she stepped over the free-throw line on the attempt and gave Michigan Center possession.
That's when Branham brought that ball up court and drove to the basket, throwing up a desperation attempt. She missed, but followed her shot, grabbed the rebound and scored to win the game.
"(The win) means a lot to us, we never gave up," said Branham.
MLive.com: Boxscore
With a 10-point lead entering the fourth quarter, Manchester seemed to be cruising to another win. But poor possessions and struggles from the free-throw line allowed Michigan Center to chip away at the lead.
"We have to execute better," said Manchester coach Cori Kastel. "We can't point fingers, they wanted it more."
Manchester (7-1, 4-1) shot just 15-for-32 from the charity stripe and missed numerous attempts in the final minute to put Michigan Center (5-4, 3-3) away.
The two teams were tied 21-21 at the half, before Manchester stifled the Cardinals in the third, holding them to just one point in the quarter. The Cardinals went more than 10 minutes without a field goal to open the second half, making just two free throws in the those 10 minutes.
But Furman told his team to keep working hard and they could climb back in it.
"My girls, I'm so proud of them right now," Furman said. "They did a great job and never stopped hustling."
Manchester's McKenna Erkfritz led her team with 16 points, but fouled out with 35 seconds left, leaving her squad without one of its leaders and best rebounders. But Kastel doesn't think that should have made a difference.
"She's not the one player who makes this team, we all were a part of (the loss)," she said.
When Erkfritz fouled out, Manchester led 42-38, and was still in control of the game. Michigan Center would continue to foul and send the Lady Dutch to the line, but Manchester split on consecutive trips to the line, allowing Michigan Center to stay close.
With 13 seconds left, Branham had the ball and was fouled as she drove to the basket and made the shot. She converted her free throw, making the game 45-44. That's when the Cardinals sent Frey to the line for pivotal attempts.
Kelsey Colby led the way for Michigan Center with 16 points and 15 rebounds, while Branham added 14 including nine in the final quarter. Jessie Coltre scored 10 points for Manchester.
While Kastel was not pleased that her team lost, she tried to look at the bright side.
"That one loss is out of the way," she said. "You dwell on it, you learn from your mistakes."
Matt Durr covers sports for AnnArbor.com. Contact him at mattdurr@annarbor.com.