Posted on
Fri, Feb 22, 2013 : 9:35 p.m.
Saline beats Ypsilanti at the buzzer and more girls basketball results
By Pete Cunningham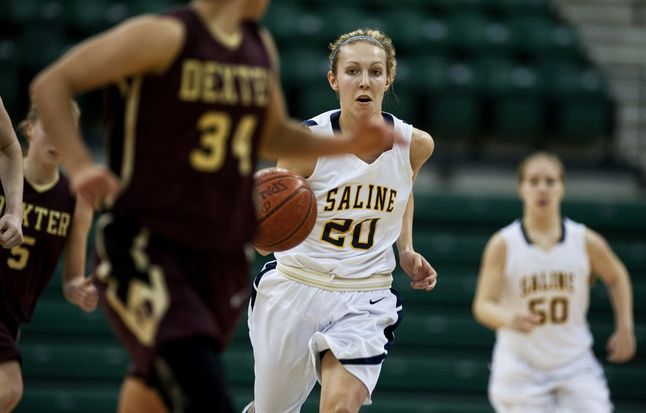 Daniel Brenner | AnnArbor.com file photo
This file will be updated throughout the night.
AnnArbor.com Washtenaw County Scoreboard
Saline 51, Ypsilanti 48
Story | Boxscore
Amanda Zylstra hit a 3-pointer at the buzzer to break a 48-48 tie and give Saline a win over Ypsilanti.
Caitlin Ellis had a monster game for Saline (12-8) with 22 points and 19 rebounds. Tori Amison led Ypsilanti (13-7) with 15 points.
Buzzer beater video from The Saline Post:
Lincoln 32, Pioneer 19
Story | Boxscore
Dominique Foley led Lincoln (13-7) with 13 points, followed by Katelyn Morris, 10 points and 12 rebounds. Freshman Nadia Reed led with 13 rebounds and added four points.
Desiree Cougill led Pioneer (9-11) with 10 points and 13 rebounds.
"It feels good getting the win," said Lincoln assistant coach Anthony Finley, who filled in for the night for suspended head coach Mike Foley. "The Lincoln girls have never won this many games in a season.
"I think our kids played together and our point guard Arie Cargor, our leader all year, did a wonderful job of controlling the tempo for us. She could score 20 every game if she wanted to, but she'd rather be a leader. She plays not for herself, but for the team.
"And Nadia Reed had a breakout game. I'm so proud of her."
Tecumseh 59, Skyline 46
Boxscore
Anita Vandermeulen and Janae Sims each scored 12 points apiece to lead Skyline (7-13), but it wasn't enough to overcome the Tecumseh (7-12).
Hannah Galloway lad Tecumseh with 16 points and Kayla Kormos scored 15.
AnnArbor.com coverage:
Huron 34, Dexter 19
Story | Photo Gallery | Boxscore
Pete Cunningham covers sports for AnnArbor.com. He can be reached at petercunningham@annarbor.com. Follow him on Twitter @petcunningham.