Posted on
Thu, Feb 28, 2013 : 5:45 a.m.
Girls district title games, boys conference title matchups in this week's picks
By Kyle Austin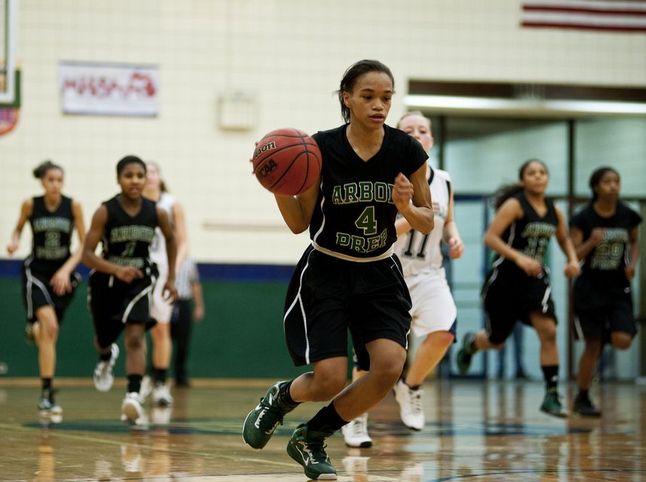 Daniel Brenner | AnnArbor.com
I'm honestly happy for Saline's Amanda Zylstra, who hit a high, arcing 3-pointer just before the buzzer Friday night to send Saline to a crossover win over Ypsilanti.
It was an amazing shot, and not something you get to see often. If you haven't seen the video, it's worth checking out.
But forgive me if I'm not jumping for joy like the Hornets players and coaches were after the game. That rainbow cost me another unbeaten week in my Beat the Press picks.
Saline's win over Ypsilanti was one of my two misses on the week. Skyline's loss to Tecumseh was the other. I picked six games, but Chelsea's crossover visit to Temperance Bedford was canceled due to weather, so I finished 3-2.
Two participants managed better than that record: Father Gabriel Richard junior basketball player Kora Dreffs, who bested me by picking Tecumseh, and Nancie Crosbie of Saline, who went with her Hornets for the win.
Nobody of them picked all five correctly, so four wins would have been enough to keep me unbeaten, had that shot not gone in.
Oh well. At least I got to see a good YouTube clip.
As we move on to picks this week, we're switching things up a bit so we can include girls districts in our picks.
The trouble is, with deadlines being what they are, my picks must be in before tipoff of Wednesday's district semifinals. So for each one, I'll pick a winner from the four semifinalists left after Monday's games.
If you think I'm wrong, then just make the other selection to choose any of the other three semifinalists. Pretty good odds, right? In fact, you might end up with a gimme, since my pick could be eliminated by the time you're reading this.
We've also got a pair of boys games on the slate that will determine the SEC Red title, since mother nature was kind enough to step in Tuesday afternoon and postpone them to Thursday.
But that also means I've got to make a pick in the Huron/Bedford game. Not an easy task. But I'll take the Kicking Mules on the road, despite their loss to Pioneer last week.
They took care of Huron in Temperance easier than they did Pioneer, and Huron hasn't looked its best in recent wins over Saline and Skyline.
This week's schedule means you have only until 7 p.m. Thursday to get your picks in. So what are you waiting for?
Beat the Press winners
The following people "Beat the Press" last week: Kora Dreffs, Nancie Crosby
People who have "Beat the Press" so far: 70
Kyle's overall record: 32-8 (.800).