Posted on
Fri, May 3, 2013 : 11:13 p.m.
Golden Triangle meet attracts top Michigan track talent to Saline
By Kyle Austin
Good competition has a way of attracting more good competition. And earlier this week, Saline found out it would be hosting some of the nation's best runners at its 17th annual Golden Triangle Invite.
On Tuesday, race organizers fielded a call from Erin Finn, a West Bloomfield senior and a national high school record holder who will attend the University of Michigan to run next year.
Finn had heard that the Meier twins, Hannah and Haley of Grosse Pointe South would be running at Friday's meet, and wanted to face the best competition possible a month before the state meet.
"I don't think there's a purpose in racing without a purpose, I guess," Finn said. "My goal is to put on a good race at states with them, and the best way to do that is to practice and get as much experience with them as I can."
More than 20 teams packed Saline Friday afternoon for the 17th annual Golden Triangle, making it one of the best high school track competitions outside of the state meet. But nowhere was there more top-end talent than in the girls distance events.
More Coverage: Boys Results | Girls Results
Finn set a national record in the 5,000-meter run last November, and the state 3,200-meter record at last year's state meet. Hannah Meier is an indoor national champion in the mile, and set state records last spring in the 800 and 1,600. Her sister also finished under the previous state record in the 1,600.
The significance of having all three competing simultaneously at Saline wasn't lost on girls track followers.
"You could be around track for decades and not have something like that," Saline girls distance coach Mike Smith said.
The group didn't disappoint Thursday. Haley Meier edged Finn by four seconds in the 1,600, setting a new track and meet record in the process at 4:50.78. That's 20 seconds faster than the previous meet record.
Finn went on to take the 3,200-meter win in 10:15:37, besting the field by more than 45 seconds.
Finn is hoping it's the first of what will be many fast times turned in in Washtenaw County as she looks forward to joining the Wolverines next fall.
"Oh my gosh, AP week is coming up so I'm just stressed to the max, and I'm so ready to get out of West Bloomfield and trade the green and white for the blue and yellow," Finn said. "There's nothing I'm more excited for right now."
Saline also had a pair of all-state distance runners return from last year's squad -- Abby Rentschler finished third in the 3,200, and Elianna Shwayder finished fifth.
And both got a preview of the state's best competition Friday.
"With two weeks to go until the regional, it was a good test for them to be in that kind of field today for sure, compared to the dual meets where sometimes there's not a lot of competition," Smith said. "There was competition today."
Local winners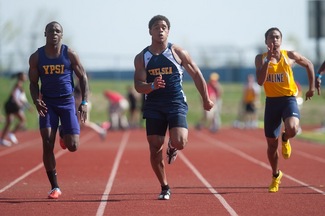 Courtney Sacco | AnnArbor.com
While Finn and the Meier twins dominated the girls distance events, seven Washtenaw County competitors earned event wins Friday.
Saline's Quenee' Dale won the 100 hurdles in 14.13, then won the 100 soon after in 12.27 seconds.
In the next race, Chelsea's Berkley Edwards won the 100 title in 10.79.
Ypsilanti's Endia Francois won the girls 200 and finished runner-up in the 400.
Four area competitors took home wins in the field events. Saline's Randi Bennett set a new school record with a throw of 40 feet, nine-and-a-half inches. Dexter's Noah Gary won the pole vault at 14 feet, six inches, and
Lincoln's Tyree Waller won the long jump at 22-3.5, besting second-place Cole Taylor by more than a foot, and Saline's John Smutny won the discus
Francois' versatility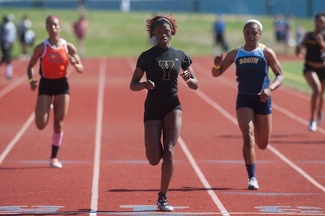 Francois showed plenty of versatility at Tuesday's meet, both on the track and in the field.
So which events will she be competing in at the state meet?
"It's a surprise," Ypsilanti coach Torin Moore said. "Because everybody wants to know."
If Moore wants to keep his lineup under wraps, it's because Francois has a good chance to be all-state in any number of events.
In her favorite event, the 200 meter, she placed third at last year's state meet, and topped the Golden Triangle field by more than a half second.
She decided earlier this year to pick up the 400, to help her conditioning for the 200. She's already run a 56.24 in the 400, and while she faded at the end of Tuesday's 400, she's confident she can improve.
"It's my first time doing a big 400, so I'm just waiting for regionals to come," Francois said. "I'm going to get it next time."
Kyle Austin covers sports for AnnArbor.com. He can be reached at kyleaustin@annarbor.com or 734-623-2535. Follow him on Twitter @KAustin_AA.