Posted on
Sun, Jan 29, 2012 : 2 a.m.
Hanging up the jersey for the whistle and more basketball notes
By AnnArbor.com Staff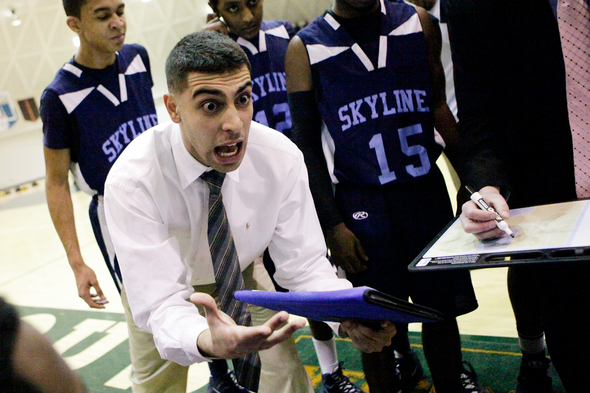 Chris Asadian | AnnArbor.com
At the beginning of the season, Skyline assistant boys basketball coach
Jay Shunnar
knew he'd spend most of his free time on the court.
He just figured it would be as a player, not a coach.
A 2008 graduate of Huron High School, Shunnar walked on to the University of Toledo team and last year played in all 32 games for the Rockets, with 20 starts. He averaged 5.6 points in 23.2 minutes per night.
He was preparing for his junior year of eligibility when he was accepted as a transfer student at the University of Michigan's college of engineering. Shunnar applied when Toledo's former coach, Gene Cross, was fired following he 2010 season.
"They wrote me a letter saying I got in to the college of engineering winter semester," Shunnar said. "They're giving me a good amount of money to come here to the college of engineering, so I had to make a decision for my future."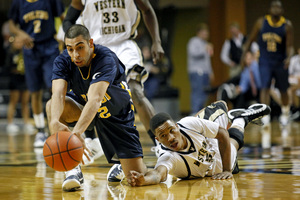 Booth Newspapers file photo
And just like that, Shunnar traded his sneakers for a whistle and joined
Mike Lovelace
's staff at Skyline.
Shunnar said he misses playing college basketball, but that coaching gives him his hoops fix. Friday night, he relished in the opportunity to coach against his mentor, Huron coach Waleed Samaha.
"It was awesome," Shunnar said after Huron's 58-48 win on Friday. "He's like a second dad to me. After every game at Toledo, I'd call him and after every game here at Skyline, I call him."
Holman feeling better both on and off the court
Heading into the holiday break, Pioneer point guard Jimmy Holman had been dealing with a multitude of major and minor injuries to his legs, shoulders and hands. But, according to head coach Rex Stanczak, Holman is starting to feel much healthier and it's showing on the court.
He scored a team-high 24 points in Pioneer's double overtime win over Temperance Bedford on Friday, the second game in a row that he led the team in scoring.
"I don't know that Jimmy's ever going to be 100 percent healthy," said Stanczak. "He has to do so many things. He's our primary ball handler, he's our primary shooter, he's our on-the-ball defender. He's probably going to be banged up all year a little bit. But the serious ones are starting to clear up for him."
Family dinners
Lincoln coach Mike Foley is trying to help his team bond by having the players eat dinner together after every home game. A parent volunteer, Stephanie Howard, prepares the meals.
"After every home game, we go down to the cafeteria, they cook a big dinner and all the players go down and eat and we talk about the game, whether we win or lose," Foley said.
It's the first time in his eight years as coach at Lincoln that Foley has done something like this.
"I'll tell you what; it's bringing a lot of unity with our guys and it's fun," Foley said. "As a college athlete, we used to do that at Wayne State."
For the record
Former Pioneer player Matt Johnson (2008) set a University of Chicago and University Athletic Association single-game scoring record with 49 points, including the game-winning 3-pointer at the buzzer on Friday night in a 103-102 upset win over Emory University, the No. 4-ranked team in Division III.
Johnson also hit a school record-tying eight 3-pointers in the game. Johnson tied the previous record of 44 points in one game just five days earlier in a 97-89 overtime loss to Brandeis University.
Rousing Rats
There was a section full of green-clad fans at the Eastern Michigan basketball team's game against the Toledo, but they weren't cheering for the Eagles. It was the Huron High School basketball program -- 60 players, coaches and supporters in total -- who had turned out to see former River Rat A.J. Mathew, who is a freshman for the Rockets.
Mathew played eight minutes with no points, one steal and one turnover.
Pink party
Entering Huron's gym on Friday night, one color could be noticed in addition to Huron's primary green: pink.
Huron's boys and girls doubleheader against Skyline was also a breast cancer awareness event. River Rats players wore pink warmups and pink shoelaces.
There was also a ceremonial opening tip featuring a pink ball by Bonnie Gildersleeve, mother of Huron football coach Corey Gildersleeve and a six-year breast cancer survivor. The ball was later signed by the players and auctioned off.
"It was fun to be a part of," Huron girls basketball coach Steve Vinson said.
Vinson credited the staff, including athletic director Dottie Davis, for making the event happen.
"That was a great experience," said Skyline girls coach Keith Wade, who put up with some ribbing from his team for wearing a pink dress shirt. "I'm pretty sure everyone in that gym knows someone who's dealt with cancer."