Posted on
Tue, Jan 3, 2012 : 10 p.m.
Gabriel Richard girls' winning streak snapped in OT and more Tuesday results
By Jason Idalski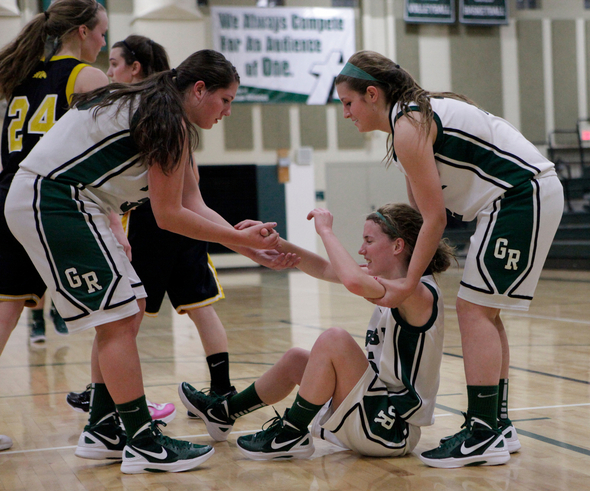 Chris Asadian | AnnArbor.com
Two free throws with six seconds left in double overtime ended the Father Gabriel Richard girls basketball team's four-game winning streak Tuesday night as Macomb Lutheran North beat the Fighting Irish 39-38.
More coverage: Boxscore | Photo Gallery
Lutheran North's Carrie Freeman was fouled after an offensive rebound and made both free throws with her team down one. Richard got a decent looked at a three-pointer but it hit the back rim. This was after Richard's attempt to win at the end of regulation "hit every side of the rim" but didn't fall, according to Fighting Irish coach Matt Carroll.
"The most disappointing point is that we shot (14-for-56) from the field," Carroll said. "We shot the ball just terribly."
Carroll said Lutheran North played a zone defense for most of the game and his team settled for jump shots too often in dealing with it.
"We have to do a better job of keeping our posts involved," he said. "We can't allow other teams to dictate how we're going to play offensively."
Richard led most of the game, including by as many as five points in the fourth quarter.
"Defensively, whenever you hold someone to 39 points in five quarters, counting the two overtimes, that's pretty good," Carroll said. "Offensively, we just could not make a shot."
After regulation ended with the game tied at 33, neither team scored in the first overtime.
Jessica Jenkins scored 12 points to lead Richard (4-1, 0-1 Catholic). Katie Draeger scored 18 for Lutheran North.

MORE GIRLS

MANCHESTER 62, HANOVER-HORTON 28
McKenna Erkfritz had 14 points, nine rebounds and seven assists for Manchester (7-0, 4-0 Cascades).
More coverage at MLive.com: Boxscore
Taylor Manders scored 11 for the Dutch, who play perennially strong Michigan Center (4-4, 2-3) on Friday. Coach Cori Kastel said she is happy with where her team is.
"Each game we've seen different things improve," Kastel said. "The big thing is to make sure that we're consistent in all categories."
In that vein, Kastel said she was happy that her team, which has struggled with outside shooting, made a season-high four 3-pointers, one each by four different players.

BOYS

CANTON 42, SALINE 36
The Hornets lost their first game of the season despite holding Canton to three points in the third quarter.
MLive.com: Boxscore
"Not our best outing. We didn't shoot well," Saline coach Matt Seidl said. "We had a hard time hitting shots from the perimeter."
Saline led by four at halftime, and was tied with four minutes to go when Canton scored and never relinquished the lead.
"We couldn't buy a bucket," Seidl said. "Six or seven times I remember us having the ball at the rim, sometimes with our big guys...and we came up with nothing."
Garrett Stark scored 11 and Michael Smutny 10 for Saline (6-1).
"Tonight we needed to grind and find some dirty baskets and garbage baskets and we just didn't," Seidl said.
Paul Baumgart scored 15 for Canton. Seidl also praised Baumgart's defense.
"There were times when we could have taken control of the game," Seidl said. "They just made some big plays defensively...(Canton is) a good team it's a really solid team."
PINCKNEY 59, DEXTER 53
Despite trailing 42-29 after three quarters, Dexter was able to eliminate the 13-point deficit to tie Pinckney in the fourth. The Dreadnaughts, however, couldn't finish the comeback.
MLive.com: Boxscore
Both times Pinckney had the ball late with the score tied, it hit two free throws and hit four more free throws down the stretch to ice it.
"It's disappointing that the fouls we committed both times we were tied I would characterize as stupid fouls," Dexter coach Randy Swoverland said. "It's tough to see all that hard work go down the drain."
Pinckney led 42-29 after three, but the Dreadnaughts went on a 15-2 run to tie it.
"They dominated the game up through the end of the third quarter," Swoverland said.
Jay Lewis and Steve Miller each scored 12 for Dexter (3-4). Kyle Slotnick scored 24 points for Pinckney.
"He's a little quick guy that dribble-drove and shot pull-up jump shots before the help could get there," Swoverland said.
Swoverland said part of the problem was that Lewis, Dexter's best defender, was committed to Pinckney's best player. He said he tried putting different guys on Slotnick, but none were effective at slowing him down.
EASTERN WASHTENAW MULTICULTURAL ACADEMY 57, CHARYL STOCKWELL PREP ACADEMY 55
Dorian Gray came up with the game-winning basket and a game-saving block for Eastern Washtenaw (2-2).
MLive.com: Boxscore
Gray scored late with the game tied at 55 and came up with a clean block on Charyl Stockwell's last possession. Eastern Washtenaw coach Jibri Taylor said he thought a jump ball should've been called, but play continued and Charyl Stockwell wasn't able to get off a good shot before time expired.
Kornelius Saxton and Sami Farha each scored 16 for Eastern Washtenaw. Momin Malik added 12.
"For the New Year's, coming off of not playing in a week, they came out playing hard," Taylor said of his team. "I thought both teams played well."