High school football playoff field to be announced Sunday night on Fox Sports Detroit; seven area teams could be included
Posted on Sun, Oct 21, 2012 : 5:45 a.m.
Wondering who your favorite high school football team will be matched up against when the playoffs open next Friday?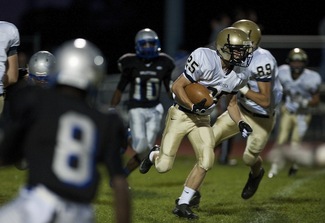 Or if your team is even in it?
All will be revealed Sunday night.
FOX Sports Detroit will air its annual Selection Sunday Show at 6 p.m., when the full 256-team field will be unveiled for the first time.
The brackets will be posted on Mlive.com immediately following the announcement.
Football playoffs open next Friday with district semifinal games, and continue through state finals Thanksgiving weekend at Ford Field in Detroit.
Teams with six wins receive automatic playoff berths. The rest of the field is filled with five-win teams, based on the number of playoff points -- a metric that includes strength of schedule and opponent enrollment.
Of the 13 Washtenaw County football teams, six have wrapped up automatic playoff berths : Saline, Milan, Father Gabriel Richard, Manchester, Pioneer and Chelsea.
The latter two wrapped up their bids with Week 9 wins.
That leaves just one team sitting on the bubble with five wins: Lincoln, which lost to Milan Friday.
And according to Lincoln coach Chris Westfall earlier this week, it would take a miracle for his team to get in with five wins.
"There would have to be a miraculous weekend by the SEC," Westfall said. "Pretty much everyone on our schedule would have to win, and even then it would be close."
Of the eight other teams on Lincoln's schedule, only three won Friday. The math says the Railsplitters will likely be on the outside looking in come selection time.