Posted on
Thu, Oct 27, 2011 : 5:57 a.m.
An in-depth look at this weekend's high school football playoff games
By Pete Cunningham
The last week of the high school football regular season was once again a humbling experience for me in our Play It Again Sports "Beat Pete" High School football pick 'em contest.
Fifty-six of you beat me ... and I can't say I'm surprised.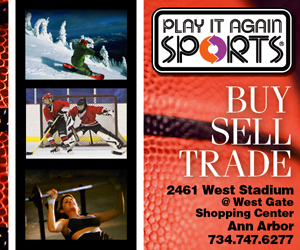 Congratulations to the final "Beat Pete" winner of the season,
Jana Miller
, who wins a $20 gift card to Play It Again Sports. Play It Again Sports will also donate $100 to the Saline High Athletic Booster Club.
Though everyone who participates in the contest is eligible to win the prizes, it is appropriate (and slightly embarrassing) that Miller won this week because she has beat me all three of the four weeks of the contest.
Miller is a bit of an expert. She used to cover high school sports for the Saline Reporter and the Heritage chain. So not only am I making myself look bad, I'm starting to make the competition look good.
My days may be numbered.
Now that the playoffs have begun the "Beat Pete" contest has changed ever-so-slightly.
Since our sponsorship with Play It Again Sports was just for the regular season, the prize will be a gift card from Domino's Pizza. Otherwise, all you have to do is scroll to the bottom of this article and guess (apparently my strategy) and you're eligible to win.
Just in case you want to apply some expertise to your picks (Miller's philosophy), below are detailed breakdowns of each of the five playoff games involving Washtenaw County teams this weekend.
Good luck!
MONROE (7-2) AT PIONEER (7-2)
PIONEER VS. MONROE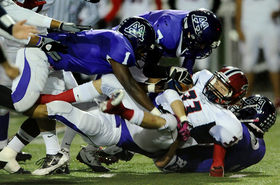 What:
Division 1 district semifinal
.
When: Friday, 7 p.m.
Where: Pioneer High School.
Winner plays: Temperance Bedford (6-3) vs. Brighton (8-1) winner.
Last meeting: Pioneer won 28-21 in double OT in Week 7.
All-time series: Pioneer leads, 5-0.
Monroe vs. '11 playoff teams: 2-2.
Pioneer vs. '11 playoff teams: 2-2.
Scouting Pioneer:
Champions of the SEC Red Division, Pioneer is going to hand the ball to Drake Johnson on offense … a lot. The senior has 258 carries for 2,181 yards and 29 touchdowns this season. Compare that to the 33 carries for second-leading rusher Zach Davis and 12 completions over seven games for quarterback Aedan York. As coach Paul Test said once, "if you've got a cannon, you want to fire it off."
Johnson carried the ball 41 times and scored four touchdowns when Pioneer handed Monroe its first loss of the season. So, in one sense, there's no mystery to the Pioneer offense, except how to stop Johnson. Defensively, the Pioneers have gotten better as the year has progressed, largely due to the improved health of defensive lineman Aaron Noffke. Noffke had a foot injury at the beginning of the season, but now the 6-foot-3, 225-pound senior is healthy and a headache for opposing offensive linemen.
Scouting Monroe:
The Trojans finished third in the SEC Red. Monroe started its season 6-0, but only played a single playoff team in that span, Division 4 Lansing Sexton (6-3). Monroe lost two of its final three games of the season against playoff opponents, beating 5-4 Dearborn Fordson in Week 9. Monroe likes to keep the ball on the ground with running backs Jacob Nadeau (140 carries, 950 yards, 19 TDs) and Gaetano Paolino (65-589, 4 TDs) getting the bulk of the carries. When these two teams last met, Monroe was without 6-4, 315-pound offensive tackle Jake Notario, who is now healthy and sure to be a difference maker in the run game.
Pioneer coach Paul Test says: "Being home will be an advantage, but I'm sure their attitude is they're going to repay us for what we did down there. … They have a real good running back in Nadeau. He's hard to locate behind all the big fellas they have."
X-Factor: Turnovers. Pioneer turned the ball over four times in the first half when the team's played last, perhaps making the game closer than it should have been.
Pete's pick: Pioneer, 42-21.
LINCOLN (6-3) AT WYANDOTTE ROOSEVELT (8-1)
LINCOLN VS. WYANDOTTE ROOSEVELT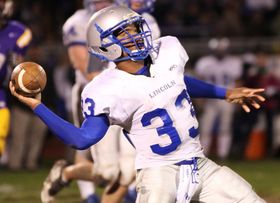 What:
Division 2 district semifinal.
When: Friday, 7 p.m.
Where: Roosevelt High School.
Winner plays: Brownstown Woodhaven (6-3) vs. Southgate Anderson (7-2) winner.
Last meeting: N/A.
All-time series: N/A.
Lincoln vs. '11 playoff teams: 1-1.
Roosevelt vs. '11 playoff teams: 2-1.
Scouting Roosevelt:
Champions of the Downriver League, Roosevelt was ranked No. 7 in the final Division 2 Associated Press poll of the season, dropping from No. 4 after losing its season finale 21-18 to Southgate Anderson. Much like Lincoln, the Bears are a tough defensive team, allowing just 10 points per game this season, and are lead by recent Eastern Michigan commit Hunter Matt. A 6-1, 225-pound linebacker, Matt has 78 tackles and is also a big part of Roosevelt's running game with 550 yards rushing and 11 touchdowns. Roosevelt running back Tyler Dunn is also a big-play threat.
Scouting Lincoln:
Lincoln finished second in the SEC White Division and is making its first playoff appearance just one year after going 0-9. The biggest reason for the turnaround has been the Railsplitters' defense. Led by defensive linemen Dejuan Hampton (6-4, 210) and Tanner Brewer (6-1, 270), Lincoln has allowed 14.9 points per game. Wide receiver Rare Williams is a home run threat on offense and on kick returns and Lincoln coach Chris Westfall has been trying to find more and more ways to get him touches.
X-Factor: Special teams. If Williams can answer any Roosevelt score by giving Lincoln a short field, or taking a return to the house, Lincoln might be able to hang around with the highly touted Bears.
Pete's Pick: Roosevelt, 22-13.
CHELSEA (7-2) AT RIVERVIEW (8-1)
CHELSEA VS. RIVERVIEW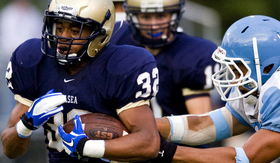 What:
Division 3 district semifinal
.
When: Friday, 7 p.m.
Where: Riverview Community High School.
Winner plays: Adrian (5-4) vs. Carleton Airport (8-1) winner.
Last meeting: Riverview won 26-7 in a 2004 district championship game.
All-time series: Riverview leads, 2-0.
Chelsea vs. '11 playoff teams: 3-2.
Riverview vs. '11 playoff teams: 1-1.
Scouting Chelsea:
Champions of the SEC White, Chelsea is making its 13th straight playoff appearance under coach Brad Bush. This year's Chelsea squad is a built around it defense, and at the center of that is linebacker Truman Hadley, who Bush calls "the best linebacker we've ever had." Offensively, the Bulldogs mostly keep it on the ground and rely on the inside running of junior tailback Berkley Edwards, who has 231 carries for 1,038 yards this season.
Scouting Riverview:
The Huron League co-champions' only loss came to Carleton Airport in Week 2. The Pirates haven't been to the playoffs since 2004, going through a lull following the retirement of Hall of Fame coach Don Lessner. The program has made a resurgence under coach Jeff Stergalas, who took over in 2009 after years at Dearborn Fordson, where he won a state title in 1993. Riverview is a run-first team led by sophomore Josh Smith, who averages more than six yards per carry, and has a three-year starter at quarterback in Matt Gibbons.
Chelsea coach Brad Bush says: "They're physical, they're going to power the ball. ... The strength of their team is offensive line and the running game."
X-Factor: The field. You won't see too much grass on Riverview's field and for two offenses built around the run, this could have a huge impact.
Pete's Pick: Riverview, 24-21.
CAPAC (6-3) AT FATHER GABRIEL RICHARD (7-2)
GABRIEL RICHARD VS. CAPAC
What:
Division 5 district semifinal.
When: Saturday, 1 p.m.
Where: Father Gabriel Richard High School.
Winner plays: Clawson (6-3) vs. Almont (8-1) winner.
Last meeting: N/A.
All-time series: N/A
Gabriel Richard vs. '11 playoff teams: 2-2.
Capac vs. '11 playoff teams: 0-3.
Scouting Capac:
The third-place team in the Blue Water Area Conference, Capac is making its third consecutive playoff appearance, but first under first-year head coach Mark McDonald. The Chiefs run a Wing T offense, which means running, running, then more running -- and deception when it comes to the ball carrier. Some variations of the Wing T include a mix of passing (think Saline), but that is not the case with Capac.
Scouting Father Gabriel Richard:
Gabriel Richard finished second in the Detroit Catholic High School League AA Division, with its two losses coming to undefeated Pontiac Notre Dame Prep. The Irish's running game is their strength and is led by senior tailback Nick Pauze, who has 1,001 yards and 11 touchdowns in just eight games (Gabriel Richard received a win by forfeit in Week 2.)
On defense, senior linebacker Dallas Hartsell leads the way for the Irish with 58.5 tackles. Coach Brian Lemons is eager to get rid of the sour taste left from his team's 38-7 loss to Notre Dame Prep in the CHSL Prep Bowl last week. "The thing that sticks in my craw is that we didn't show how improved we are," he said.
Coach Brian Lemons says: "Playing on a Saturday is a huge advantage for us because it's our normal schedule and it's our home. For us it's just a regular, run-of-the-mill game."
X-Factor: Time and location. Gabriel Richard is accustomed to playing at 1 p.m. on a Saturday. Capac will be making a two-hour drive at a time its players are normally sleeping. Plus, there's always the possibility of getting stuck in Michigan football traffic.
Pete's pick: Gabriel Richard, 32-17.

LESLIE (7-2) AT MANCHESTER (8-1)

MANCHESTER VS. LESLIE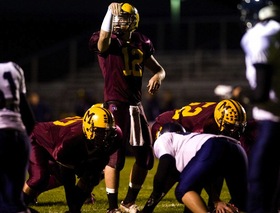 What:
Division 6 district semifinal.
When: Friday, 7 p.m.
Where: Manchester High School.
Winner plays: Hillsdale (6-3) vs. Grass Lake (9-0) winner.
Last meeting: Manchester won 34-28 in a 2005 district semifinal.
All-time series: Manchester leads, 1-0.
Manchester vs. '11 playoff teams: 1-1.
Leslie vs. '11 playoff teams: 2-2.
Scouting Manchester:
Manchester is the only one of the five Washtenaw County playoff teams that airs it out. Junior quarterback Nate Bossory threw for 1,641 yards and 23 touchdowns against 10 interceptions during the regular season with a 51.6 (130 of 252) completion percentage. He has two receivers in Josh Finley and Devin Jose who can go up and get the ball. After a slow start to the season, the Dutchmen's running game has picked up behind Jimmy Kurasz, who had three 100-yard efforts and six touchdowns over the last five games of the season.
Scouting Leslie:
Tied with Hillsdale for the Southern Michigan Activities Association title. Lost to Hillsdale 22-14, (a team Manchester beat, 26-13) and Grass Lake 36-28 (which beat Manchester, 47-12). The Blackhawks' dual-threat quarterback Brendon Smith -- a three-year starter -- has more than 1,000 yards passing and rushing and leads an offense averaging 30.3 points per game.
Manchester coach Wes Gall says: "We've had trouble with mobile quarterbacks getting loose on us, so that's something we'll have to focus on. ... You can't get in hole with this team because you're not going to get out of it."
X-Factor: Skill position battles. As is typical with teams from smaller schools, most players play on both sides of the ball for both teams. That means the wide receivers/defensive backs will be battling each other on both sides of the ball all night long.
Pete's Pick: Manchester, 35-34.

Beat Pete winners
The following people "Beat Pete" last week:
John Benedetto
Tony Bertoia
Gabe Burdette
Ed Cline
Mark Cozart
Brenda Darwin
Dottie Davis
Doug Donnelly
Gary Dosey
Hal Dotson
Will Ellis
Dave Evanski
Laura Farmer
Stacey Foley
Jordan Fox
Dion Frischer
Vic Gagnon
Greg Garrison
Mitch Gasche
Jeff Gillow
Joel Grambau
Rob Hagood
Mark Hanselman
Lorraine Hergenreder
Mark Hergenreder
Joe Keefe
Kevin Lee
George Lesko
Vince Levigne
Jana Miller
Sheri Montoye
Tom Moore
Jason Morris
Bob Needham
Sean Porter
George Poulos
Bill Ramey
Rich Rezler
Eric Robinson
Bob Rowley
Mark Scheese
Tim Shoemaker
Barb Simon
Thomas Skittenhelm
Randy Smith
Mike Spencer
Mario Sulaksana
Mike Throne
Michael Walsh
Aaron Ward
Zachary Weber
Rusty Wigal
Bill Wilson
Joshua Winn
Keith Yaple
People who "Beat Pete" this season: 134.
Contact Pete Cunningham at petercunningham@annarbor.com or by phone at 734-623-2561. Follow him on Twitter @petcunningham.