Posted on
Sun, May 2, 2010 : 7 a.m.
High school hockey extravaganza to be included in Big Chill at The Big House festivities
By Jeff Arnold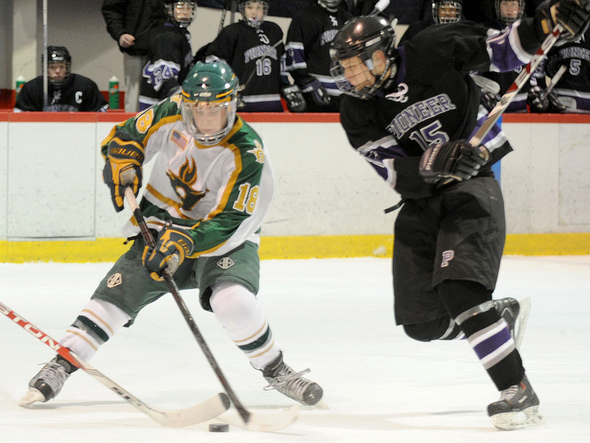 Plenty of Drew Denzin's Saline High School hockey players have grown up spending Saturday afternoons inside Michigan Stadium.
But as soon as Denzin heard a plan to bring outdoor hockey to the Big House had been finalized, the former Michigan hockey player formulated a plan that extended college hockey down to the high school level.
The result is a three-game prep hockey extravaganza on Dec. 5 that allows six local teams to compete inside Michigan Stadium in the week leading up to the Big Chill at the Big House on Dec. 11, when Michigan and Michigan State face off in what is expected to be the largest crowd to watch a hockey game.
According a counter on the official website for the event, nearly 93,000 tickets have been sold. The previous record was set in 2001 in the Cold War game when more than 74,000 watched the Wolverines and Spartans play at Spartan Stadium.
For Denzin, getting the chance to see his team skate on the same icy stage as two of college hockey's biggest rivals creates an exciting opportunity, regardless of the adjustments players will have to make.
"To try and keep (the players) focused on the game will be a bit difficult," Denzin said. "But once both of the teams get used to the idea of how the puck is moving on the ice and taking a couple minutes at the beginning to let it soak in, it's going to be something they will never forget - win or lose."
Plans for the tripleheader were finalized early last week, according to Huron athletic director Dottie Davis, who sees the event as the perfect way for the university to strengthen its ties with Ann Arbor and surrounding communities.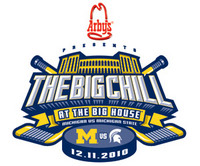 Davis compares the event to Huron's recent trip to the Class A state basketball finals at Michigan State's Breslin Center in terms of putting high school athletes inside a big-time college environment.
"So few of the kids are going to get to participate in a college (hockey) setting and maybe this inspires them to help out with a hockey team or try to walk-on somewhere smaller," Davis said. "It's just a great boost for our kids and another great example of educational athletics."
The Sunday tripleheader will begin at 4 p.m. when Skyline faces Father Gabriel Richard. The second game will pit Southeastern Conference and Metro League rivals Saline and Pioneer before Huron and Dexter close out the event at 8 p.m.
Michigan athletic director Dave Brandon recently told AnnArbor.com he wanted to make The Big Chill event more of an extended community celebration. Without offering too many details, Brandon said there would be opportunities for other groups to use the ice rink that will be built inside Michigan Stadium prior to the Michigan-Michigan State game.
Brandon said such events not only promote a positive community spirit leading up to Saturday's CCHA outdoor showdown, but also toughen up the ice before Michigan and Michigan State move onto center stage.
For Denzin, that created the perfect opportunity for high school players to play inside of a venue he initially thought was too big for hockey. Not only will the game be played inside Michigan's iconic football stadium, but it will give players their first taste of playing outdoors.
Huron hockey coach Bill DeGroot brings plenty of first-hand knowledge into December's high school hockey extravaganza. The Marquette native grew up playing on outdoor surfaces, playing out in the elements that completely change the dynamic of how the game is played.
"It's just different," he said. "It's not better. It's not worse. It's just different."
But considering where the game is being played, DeGroot, like Denzin, believes the opportunity - regardless of crowd size or weather conditions - will be memorable.
"Obviously, whenever you can have that kind of environment, it would be great," he said. "It would be an extremely exciting opportunity not only for our players, but for our program to be involved in a game that takes place before the Michigan-Michigan State rivalry and inside Michigan Stadium.
"Just to be able to play outdoors in that environment would be almost awe-inspiring for our players."
Jeff Arnold covers Michigan hockey for AnnArbor.com. He can be reached at jeffarnold@annarbor.com or 734-623-2554. Follow him at Twitter @jeffreyparnold.