Posted on
Tue, Nov 1, 2011 : 10:11 a.m.
Star running backs live up to the hype and more football playoff notes
By Pete Cunningham
The first round of the high school football playoffs was a reflection of the regular season for Washtenaw County teams on Friday. The three backs with the highest rushing averages came through for their respective teams.
FOOTBALL PLAYOFFS TOP PERFORMERS, ROUND 1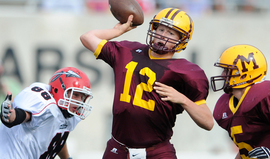 PASSING YARDS
260 - Nate Bossory, Manchester (15 of 26, 2 TDs, 1 INT)
235 - TJ O'Bryan, Lincoln (12 of 18, 1 TD, 2 INTs)
208 - Joe Kendzicky, Father Gabriel Richard (10 of 13, 0 TD, 0 INT)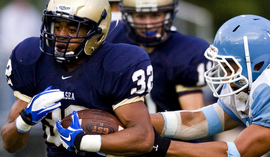 RUSHING YARDS
249 - Berkley Edwards, Chelsea (20 carries, 3 TDs)
228 - Drake Johnson, Pioneer (33 carries, 4 TDs)
69 - George Miller, Lincoln (11 carries, 2 TDs)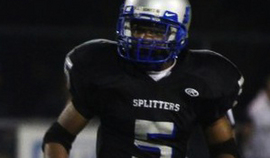 RECEIVING YARDS
97 - Dalauren Roberson, Lincoln (4 catches, 1 TD)
81 - Josh Finley, Manchester (4 catches, 1 TD)
75 - Devin Jose, Manchester (3 catches, 0 TD)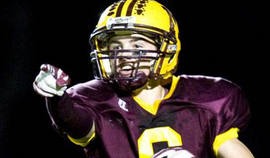 TACKLES
9.5 - Eric Coval, Manchester
9.5 - Dallas Hartsell, Father Gabriel Richard
8 - Truman Hadley, Chelsea
It was the year of the running back in Washtenaw County this high school football season as five backs rushed for more than 1,000 yards, up from zero in the 2010 season.
Chelsea junior Berkley Edwards -- who rushed for 1,038 yards in the regular season (115.3 average) -- had 249 yards and three touchdowns in Chelsea's 49-14 win over Riverview.
It was Edwards' second-highest totals on the year for yards and touchdowns (he rushed for 292 yards and five touchdowns against Skyline), but it was his most efficient as he averaged 12.4 yards per carry as opposed to 8.3 against Skyline.
Berkley's older brother, former University of Michigan All-American wide receiver Braylon Edwards, was impressed and posted the following on his Twitter account.
"My brother is showing off again. First round of the Michigan state playoffs and he has 3 carries for 150 yards and 2 tds. Still 1st quarter."
Edwards's brotherly pride was accurate in some ways, but off in others. Berkley did score two touchdowns in his first three carries, but the second touchdown was actually in the Bulldogs' first offensive play from scrimmage of the second quarter. After the three carries Berkley didn't have 150 yards…he had 158.
Pioneer's Drake Johnson led Washtenaw County in rushing in the regular season with 2,181 rushing yards and 29 touchdowns. Johnson didn't disappoint in the postseason, rushing for 228 yards and four touchdowns in a 28-6 win over Monroe on Friday.
Father Gabriel Richard senior Nick Pauze had the fifth-highest rushing yards in the area (1,001) but second highest average (125.13) due to the Fighting Irish receiving a forfeit in week 2. Pauze's yards (60) and carries (10) were down in Richard's 35-0 win over Capac, but Pauze scored three touchdowns in the win.
College crowd in Chelsea
The rematch between Southeastern Conference White Division rivals Chelsea and Adrian will likely be a hot ticket on Friday night. The last time the teams played, 5,387 people packed Jerry Neihaus Field to see a 37-13 Chelsea win.
That's higher than the attendance at three of the four Eastern Michigan football home games this season.
A Division 3 district championship will be on the line Friday night in Chelsea as the teams meet for the third time in five years in the postseason. Adrian beat Chelsea 30-20 in a 2009 Division 3 district championship game and Chelsea beat Adrian 24-14 in a 2007 first-round game.
In both instances, the winner of the regular season game won the playoff matchup as well.
Looking ahead
Of the three football playoff games involving Washtenaw County football teams on Friday, Father Gabriel Richard is the only one playing away from the comfy confines of its home field.
Ironically, Richard is the only team of the three that has a possibility of playing at home in round three.
Should Richard beat Almont on Friday, the Fighting Irish would play the winner of Dundee and Jackson Lumen Christi, both of whom have fewer playoff points than Richard.
If Pioneer were to beat Bedford at home on Friday, it would travel to play the winner of Canton and Detroit Catholic Central. Canton has eliminated Pioneer from postseaon play each of the past two years.
If Chelsea beats Adrian at home, Chelsea will go on the road to face the winner of Battle Creek Harper Creek and Mason. Harper Creek ousted Chelsea from the playoffs last season.
Pete Cunningham covers sports for AnnArbor.com. He can be reached at petercunningham@annarbor.com or by phone at 734-623-2561. Follow him on Twitter @petcunnigham.