Posted on
Mon, Feb 7, 2011 : 8:52 p.m.
Gabriel Richard secures spot in Catholic League championship and more Monday results
By AnnArbor.com Staff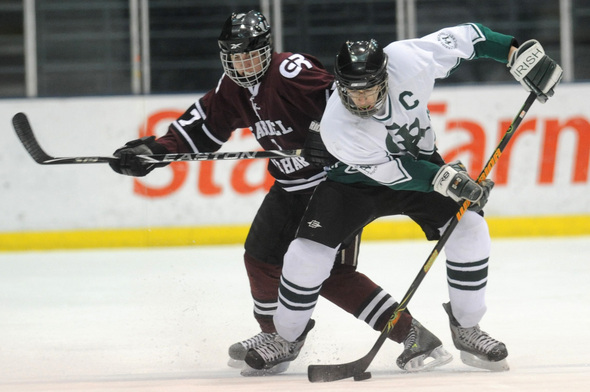 Melanie Maxwell | AnnArbor.com
The Father Gabriel Richard boys hockey team clinched the No. 1 seed for the Catholic High School League Division 2 Championship Game with a 2-1 victory at Yost Ice Arena Monday over visiting Riverview Gabriel Richard.
Either Gabriel Richard team would have gone to the championship with the win.
"This was certainly the biggest game of the year," Ann Arbor Gabriel Richard coach Tom O'Brien said. "We're very excited for our seniors, and in particular Colin (McMahon), our goalie, played a great game. We still killed off four power plays. Riverview had some good opportunuties, and Colin was the difference in our game."
O'Brien said McMahon saved several tough shots playing with a defender's stick when he lost his own in the last minute and 30 seconds.
McMahon then handled the pressure of defending a five-on-six, as the Pioneers pulled their goalie for an extra man on the ice with 50 seconds on the clock.
"It was a real gut check to try to keep this thing to a win in regulation," O'Brien said. "They had some great scoring opportunites. Colin was just seeing the puck so well, and he kept it out."
BOYS BASKETBALL Saline 61, Adrian 46: Led by David Hendrickson's 21 points, Hornets grab early lead and never let up. (Rest of the Story | Boxscore)
Whitmore Lake 66, South Lyon East 51: Tim Avey leads Trojans to first win of the season with 19 points. (Rest of the Story | Boxscore)
Orchard Lake St. Mary's 61, Father Gabriel Richard 55: A costly technical foul late hurts Fighting Irish. (Rest of the Story | Boxscore)
Lenawee Christian 69, Greenhills 65: Gryphons' winning streak ends at 10, despite 22 points from Andrew Khouri. (Rest of the Story | Boxscore)
GIRLS BASKETBALL Saline 32, Adrian 24: Saline outscores Maples 9-2 in fourth to win a defensive battle. (Rest of the Story | Boxscore)
Grosse Ile 58, Milan 32: Big Reds take a step forward, but then take two back in Huron League loss. (Rest of the Story | Boxscore)
GIRLS BOWLING Pioneer 24, Chelsea 6: (Results)
Skyline 24, Ypsilanti 6: (Results)
Tecumseh 30, Huron 0: (Results)
BOYS BOWLING Chelsea 17, Pioneer 13: (Results)
Ypsilanti 27, Skyline 3: (Results)
- Tonight's high school roundup was compiled by Josh Coudret and Pete Cunningham.