High school roundup: Pioneer girls lacrosse edges South Lyon, Dexter boys still unbeaten and more Monday results
Posted on Tue, May 8, 2012 : 2:06 a.m.
Mercedes Reyes scored six goals to lead the Pioneer High School girls lacrosse team to a 14-12 win against South Lyon Unified on Monday night.
Samantha Zwolan added four goals and Caroline Hurd scored three times for the Pioneers (10-6-1).
"We've had so many close games," Pioneer coach Zachary Maghes said. "We started controlling the draw in the second half, which took us to the victory. South Lyon is always a tough team; well coached and strong team." (Complete story | Boxscore)

Follow links to more AnnArbor.com high school coverage from Monday on MLive.com.

Boys lacrosse
Greenhills 11, Chelsea 2 (Boxscore | Story)
Dexter 11, Madison Heights Bishop Foley 10 (Boxscore | Story)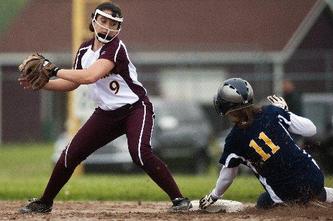 Sean Proctor | MLive.com
Softball
Manchester 3, Grass Lake 2; Grass Lake 10, Manchester 0 (Game 1 Boxscore | Game 2 Boxscore | Story)

Baseball
Skyline 7, Lincoln 6; Lincoln 5, Skyline 2 (Game 1 Boxscore | Game 2 Boxscore | Story)
Manchester 6, Grass Lake 5; Manchester 3, Grass Lake 0 (Game 1 Boxscore | Game 2 Boxscore | Story)

Boys golf
Chelsea 171, Adrian 199 (Scores | Story)
Milan 155, Grosse 165 (Scores | Story)
Saline 156, Skyline 175 (score only)

Girls soccer
Ypsilanti 2, Detroit Western International 1 (Boxscore | Story)

Girls tennis
Lincoln 6, Ypsilanti 2 (Results)