postseason preview:

Undefeated Huron soccer team primed for playoffs after close games in final week

Posted on Mon, Oct 15, 2012 : 5:35 a.m.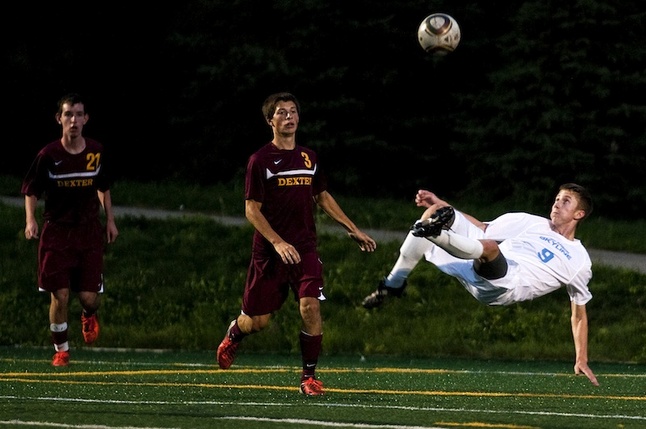 Joseph Tobianski | AnnArbor.com

The Huron High School soccer team capped off an undefeated regular season on Thursday with a 1-0 win over Skyline. The River Rats finished the season 17-0-2 and are ranked tenth in the Division 1 Michigan High School Soccer Coaches Association rankings.

As of Monday, none of that matters.

The MHSAA playoffs begin on Monday and the River Rats' stellar record doesn't even earn them a top seed in their district. Unlike in football, every team in the state makes the playoffs and district draws are completely random.

Though capping off an undefeated season last week may won't increase Huron's chance at a state title run, the way it happened just might. In a season filled with blowout wins, many of which were basically over well before halftime, Huron won back-to-back one-goal games against league rivals Saline and Skyline.

On Tuesday, Huron even found itself trailing Saline. It was just the second time the River Rats had been scored on all season, and the only time they'd played from behind.

Huron coach Max Hepburn was happy for his team to experience the adversity in preparation for district play, which begins Monday.

"I think it prepares us very well," Hepburn said. "Saline scored on us first on Tuesday so, the biggest thing for us as coaches is we didn't panic...In the past, the Huron team has kind of panicked and everything has gone helter-skelter.

"We needed this. This is the district atmosphere," Hepburn said. "The 1-0 games, playing the entire game, grinding it out."

Though his team lost on Thursday, Skyline coach Chris Morgan believes the tight game will better prepare his team for the postseason as well. Southeastern Conference teams Huron, Skyline, Pioneer, Saline, Lincoln, Bedford and Monroe all play in the same district hosted by Huron.

"We proved to ourselves we can play with one of the better teams in the state," Morgan said.

Washtenaw County high school soccer district schedule
(All semifinals and finals at tournament host site)

DIVISION 1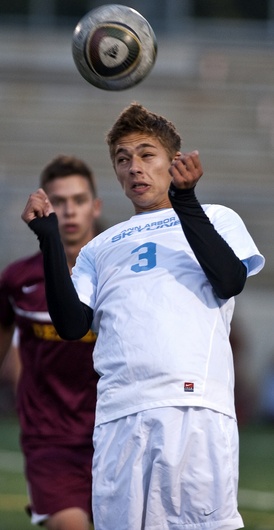 Joseph Tobiansoki | AnnArbor.com
AT HURON HIGH SCHOOL
(
Bracket
)
Monday:
Lincoln at Huron, 7 p.m.; Saline at Skyline, 7 p.m.; Monroe at Bedford, 7 p.m.; Belleville vs. Pioneer at Huron High School, 5:30 p.m.
Wednesday: Winner Belleville/Pioneer vs. winner Monroe/Bedford; winner Lincoln/Huron, vs. winner Saline/Skyline, 7 p.m.
Friday: Final, 6 p.m.
Breakdown: Undefeated Huron is the team to beat but Skyline and Saline ar quality sides sides as well. Fortunately for the River Rats, the two will beat each other up in an opening round game.
DIVISION 2
AT TECUMSEH (Bracket)
Monday: Chelsea at Milan, 5 p.m.; Dexter at Adrian, 5 p.m.; Ypsilanti at Tecumseh, 7 p.m.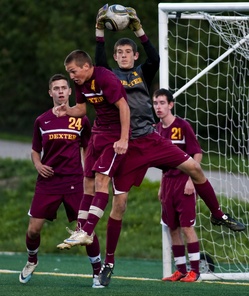 Joseph Tobiansk | AnnArbor.comi
Wednesday:
Chelsea/Milan winner vs. South Lyon East, 5 p.m.; Dexter/Adrian vs. Tecumseh/Ypsilanti winner, 7 p.m.
Saturday: Final, 7 p.m.
Breakdown: As per usual, the always strong Dexter side is expected to win, but don't discount host Tecumseh which is looking to repeat as champs.
DIVISION 3
AT GROSSE ILE (Bracket)

Monday: Allen Park Cabrini at Flat Rock, 4:30 p.m.; Henry Ford at Monroe Jefferson, 4:30 p.m.; Romulus Summit Academy at Grosse Ile, 4:30 p.m.; Father Gabriel Richard at Monroe St. Mary, 4:30 p.m.
Tuesday: Romulus Summit Academy/Grosse Ile winner vs. Father Gabriel Richard/Monroe St. Mary winner, 5 p.m.; Allen Park Cabrini/Flat Rock winner vs. Henry Ford/Monroe Jefferson winner 7 p.m.;
Thursday: Final, 4:30 p.m.
Breakdown: Unfortunately, the best teams are on the same side of the bracket with Richard, St. Mary and Grosse Ile all a cut above the rest. Grosse Ile, ranked No. 9 in the state, is the team to beat.
AT HANOVER-HORTON (Bracket)

Monday: Manchester at Jonesville, 4:30 p.m.; Brooklyn Columbia Central at Onsted, 4:30; Clinton at Jackson Lumen Christi, 4:30 p.m.; Hillsdale at Hanover Horton; 4:30 p.m.
Wednesday: Manchester/Jonesville winner vs. Brooklyn Columbia Central/Onsted winner, 3 p.m.; Clinton/Jackson Lumen Christi winner vs. Hillsdale/Hanover Horton; 5:30 p.m..
Saturday: Final, 1 p.m.
Breakdown: The Manchester team will finally get its first taste of postseason play.
DIVISION 4
AT GREENHILLS (Bracket)
Monday: Lenawee Christian at Blissfield, 4:30 p.m.; Calvary Christian at Greenhills, 4 p.m.; Washtenaw Christian at Rudolf Steiner (time not available); Neport Lutheran at Livingston Christian, 5 p.m.
Wednesday: Washtenaw Christian/Rudolf Steiner winner vs. Newport Lutheran/Livingston Christian winner, 3 p.m.; Lenawee Christian/Blissfield winner vs. Calvary Christian/Greenhills winner 5:30 p.m.
Friday: Final, 4 p.m.
Breakdown: Ranked No. 9 in the state, host Greenhills is no question the team to beat on its homefield.