Posted on
Wed, Dec 26, 2012 : 3:24 p.m.
Holiday tournaments offer local high school basketball teams chance to face state's top competition
By Pete Cunningham
Editor's note: Information in the article below has been changed to correct previously incorrect game times for the Chelsea Holiday Tournament.
It took everything the Ypsilanti High School boys basketball team had in the tank to squeak out a 71-69 overtime win over Saline in its Southeastern Conference opener last week.
So it's not that conference play won't require the best out of his team. Ypsilanti head coach Steve Brooks just knows a tough non-conference schedule will be required in order to prepare his team for that.
The weeks during the holiday break are an opportunity to play some of the top competition in the state because there are no conference commitments, and Ypsilanti is one of several teams taking advantage of that. Ypsilanti will participate in the Metro Detroit Basketball Coaches Association Christmas Tournament, which is taking place at Exorse High School Dec. 26-29.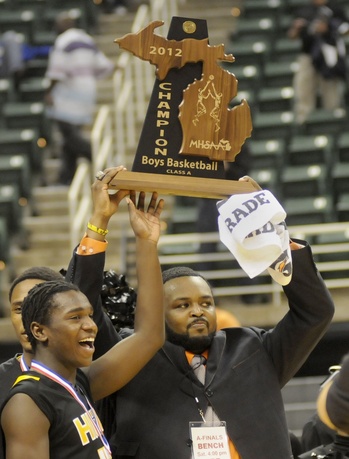 MLive Media Group file photo
Ypsilanti will play Detroit Denby Thursday at 2:30 p.m. and Toledo (OH) Scott on Saturday at 2:30 p.m.
"Detroit Denby is going to be tough and Toledo Scott's always tough, so it's going to be good for our young kids," said Brooks, who a year after having a veteran squad flush with senior talent is breaking in a new group.
"It's going to be rough at times because I only have the one senior, Lavonte (Davis)," Brooks said. "But we'll see what the young guys can do."
Ypsilanti won't be the only local team testing its mettle at Ecorse over the next few days. Huron plays defending Class A state champion Saginaw on Saturday at 7:30 p.m. and will get warmed up for the state champs on Thursday at 7:30 p.m. against Detroit Southeastern. Skyline plays Windsor Forster on Wednesday at 2:30 p.m. and Detroit Cody on Friday at 4 p.m.
Chelsea Holiday Tournament
Chelsea High School will host some holiday hoops in the coming days as well with Pioneer, Chelsea, Salem and Pinckney playing on Thursday and Friday. Pioneer plays Pinckney on Thursday at 6:30 p.m. and Chelsea takes on Salem at 8 p.m. The winners will play each other at 8 p.m. on Friday, with Thursday's losing teams facing one another at 6:30 p.m. prior to the championship game.
Before the boys action gets started on Thursday, Chelsea's girls team will take on Pinckney at 5 p.m. Pete Cunningham covers sports for AnnArbor.com. He can be reached at petercunningham@annarbor.com. Follow him on Twitter @petcunningham.