Posted on
Fri, Feb 17, 2012 : 5:30 a.m.
Christ the King Catholic Church gives home-schoolers chance to play high school sports
By Matt Durr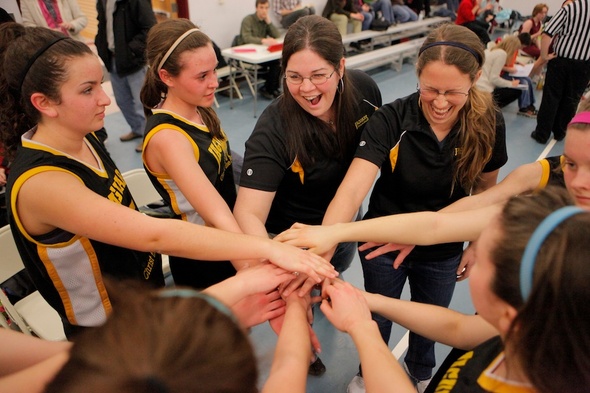 Chris Asadian | AnnArbor.com
Gabrielle Faraj was playing volleyball in the backyard with some friends, enjoying what most high school students take for granted: the camaraderie of playing and spending time with her peers.
"Wouldn't it be cool if we could play against other teams?" Faraj asked one of her friends.
Unlike most high school students, Faraj didn't have the chance to play competitive sports. As a home-schooled student, she and many of her friends didn't have the option of joining a school sports team.
That was in 2008. Fast forward to 2012 and home-schooled students like Faraj are enjoying the opportunities that more traditional students have.
The home-schooled community is a tight-knit group and many of the families know one another. Noticing their kids were yearning for a chance to play competitive sports, a group of parents at the Christ the King Catholic Church in Ann Arbor decided to explore putting together an athletics program for home-schooled students.
The parents formed a makeshift board of directors that spent months trying to develop a plan. When the 2008-09 school year began, Christ the King was able to field a junior varsity girl's volleyball team and a girl's basketball program for students in grades five through eight.
Chris Asadian | AnnArbor.com
"There was a lot of discussion between the families of what we wanted to do as a group," said Dominic Perrotta, board chair for the Christ the King athletics program, whose wife, Heidi, has been head coach of the volleyball team since its first year.
"Once a team was a legitimate option, we were really excited," Faraj said. "It was kind of surreal the first time we were out there. I don't even remember if we won or lost."
"They wanted to provide an athletic opportunity for the girls to play," said Jeff Randolph, athletic director for Christ the King.
As interest grew in the sports program, more sports and more levels were added to get as many kids as possible involved. Today, Christ the King's athletic program fields team in boys and girls basketball and girls volleyball. Christ the King is not a member of the Michigan High School Athletic Association, and therefore does not participate in MHSAA-sponsored postseason tournaments. But it does play against MHSAA member schools.
"It's been really exciting for us," said Perrotta. "It's been really rewarding. It's been great to work with the people in the organization."
Parent participation was a key element to the strategy devised by the board to keep costs low and make the athletic program possible. Home-schooled students are used to having their parents being heavily involved, and the parents were more than willing to get even more involved.
"The idea was if we all pitch in and help each other out, this may work," Perrotta said. "There is more of a community atmosphere."
Besides paying the fees required to fund the program, parents are required to help with setting up and taking down events, helping to run practices and other functions that help make the program run, according to Randolph.
"We try as much as possible to have parents coaching and doing others things to help keep the costs down," Randolph said.
Expansion has been nice for the group, but finding enough opponents has been a challenge.
"Scheduling is the hardest part. It's a small group to choose from, it's not easy to find teams that will play against a home-schooled group," said Leslie Stein, the girls' JV coach and assistant varsity coach. "We've been lucky enough to find other groups and others have taken a chance on playing us."
With the expansion of the programs, Christ the King has started to allow home-schooled students who are not part of the parish to join the teams as well. With most teams fielding between 10-12 players on a squad, room has opened up for others to join. The students must be at least 51-percent home-schooled to qualify for the teams, according to Randolph. However, he did say that if space becomes an issue, parishioners would receive the roster spots.
Faraj has since graduated high school and is currently studying sports management at Belmont Abbey in North Carolina. When she is finished with her schooling, Faraj said she would love to return and help with the program that gave her a chance to play.
"It was almost a natural transition, I cannot thank Mrs. Perrotta enough for coaching the team," said Faraj. "And the other parents for making sure we have the experience of high school sports."
Contact Matt Durr at mattdurr@annarbor.com.