Posted on
Thu, Oct 27, 2011 : 11:58 p.m.
Field hockey state finals an all-Ann Arbor affair after Huron and Pioneer semifinal wins
By Bob Gross
Jeff Sainlar | AnnArbor.com
The field hockey state championship may need to consider renaming itself the Ann Arbor Classic. For the fourth year in a row, Pioneer and Huron will square off in the state finals.
Both teams played competitive semifinal matches on Thursday night at Dearborn Edsel Ford High School, but both managed to prevail to ensure the all-Ann Arbor final.
HURON 2, FH MERCY 1
SCORING SUMMARY
1st half
H - Kelsey Gradwohl (Lexi Collins), 11:36
2nd half
FHM - Taylor Shrader, 24:02
H - Katie Yeatts (Hannah Gadway), 4:43


Defending state champs Huron played in the closer of the two semifinal matches, beating Farmington Hills Mercy 2-1. The River Rats led 1-0 at halftime behind a Kelsey Gradwohl goal, but the game was tied early in the second half off of a goal from Taylor Shrader.

With the game tied and a trip to the finals in the balance, Huron head coach Tia Sutton was happy with her team's composure, "We reminded the girls to stick to the game plan and to continue to play our game."

The team's composure paid off with 4:43 remaining in the match, when sophomore Katie Yeatts used a diving effort to beat the Mercy goaltender and seal victory for the Rats.
PIONEER 3, LADYWOOD 0
SCORING SUMMARY
1st half
P - Stephanie Terrell (Sydney Supica)
2nd half
P - Terrell (Eliza Stein)
P - Shelby Supica (Sydney Supica)


Pioneer also got its game winning goal from a sophomore, but it was in less dramatic fashion than Huron.

Stephanie Terrell's first goal of the game was all the Pioneers needed to secure victory over Livonia Ladywood, Terrell added another goal in the second half as did Shelby Supica to give Pioneer a 3-0 win.

Pioneer goalie Cameron Evans only needed to stop two shots to get the shutout in goal.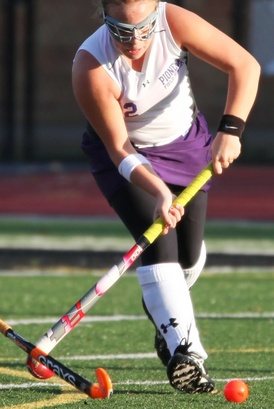 Jeff Sainlar | AnnArbor.com
The Pioneers and River Rats both tied Ladywood during the regular season and Pioneer head coach
Jane Nixon
was proud of her team's effort.
"Ladywood is a really solid team and it was a tough, tough, match. Our senior leaders have been, and were again tonight outstanding," said Nixon.
The state final is at 2 p.m. Saturday at Edsel Ford. Pioneer won five consecutive state championships before Huron ended its streak last year.
"We're really happy with the result and it should be a great game on Saturday," Sutton said.