Posted on
Mon, Dec 12, 2011 : 10:54 p.m.
Huron and Ypsilanti basketball teams try to the be the best by beating the best
By Pete Cunningham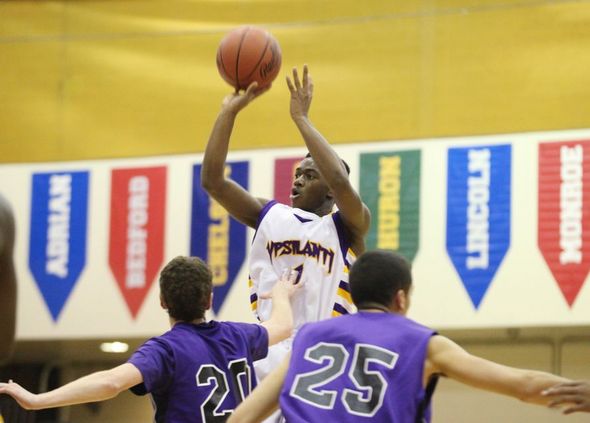 Just two games into the high school basketball season and the Ypsilanti High School boys team's goal of an undefeated regular season is gone.
On Saturday, a day after opening their season with a 70-38 win over Pioneer, the Phoenix lost to University of Detroit Jesuit, 54-49. (Boxscore)
Even though the UD Jesuit is a traditionally strong program -- competing in the always-tough Detroit Catholic High School League -- the Phoenix will no doubt drop in the state rankings and the players' egos will take a hit.
The good thing about rankings and, to an extent, egos -- at least in December -- is neither really matter. What matters early in the season for a team like Ypsilanti, with elite talent looking to make a deep run in the state playoffs: improvement.
But Ypsilanti isn't looking to just be better. The team is talented enough to be the best. There's an old saying in sports: If you want to be the best, you have to beat the best.
And to beat the best, you have to play them.
"I said before the season, we could start 0-6 with the teams we play, but you gotta play a tough schedule if you want to get better," said Ypsilanti coach Steve Brooks. "It was emotional for some guys in the locker room (after the loss), but I think it we can learn from it."
Brooks said his team had every chance to win on Saturday, but at times "threw the ball away like the mafia had had a hit on us."
He'd much rather see that problem emerge now -- with plenty of time to address it -- than in March, when such mistakes can mean the end of the season.
"You got their attention now. You get the monkey off your back and you can say, 'Guess what? You're not going to go undefeated, so there's one goal off the list. Now let's get better so we can reach those other (goals)'," Brooks said.
Unlike in football, where six wins is required to be eligible for postseason competition, every team, regardless of record, makes the MHSAA basketball playoffs. And unlike football, there is no playoff seeding.
This means there is no benefit to avoiding elite teams and padding a record with easy wins.
But that's not to say the regular season means nothing. Coaches who want their teams to make a deep run in the state tournament know that the road begins with playing a tough December schedule.
"None of the goals that we have can be accomplished in December. All of our goals are going to be accomplished in March," said Huron coach Waleed Samaha.
Huron lost its season opener on Saturday, falling to Detroit Douglass, 47-37. (Boxscore)
Don't mistake Samaha's willingness to put his team's record on the line early in the year against the best teams in the state as an acceptance of failure.
"I hate losing, I can't find a single positive in it. There's no silver lining in losses," Samaha said. "They're not acceptable in our program."
Samaha doesn't schedule these games with the intention of a teachable moment emerging from a loss. He does it because he wants his team to be the best.
And to be the best, you have to beat the best.
"The way the (Southeastern Conference Red Division) is this year, you're not going to have a single night with an easy night and on into the playoffs," Samaha said. "These preseason games are a way to better prepare us for that."
It's a bit of a different story in the SEC White where, let's face it, Ypsilanti will be able to take the occasional night off.
Two games against Tecumseh -- which was winless last year -- come to mind.
For that reason, Brooks has yet to schedule Ypsilanti's final regular season game, hoping to play a Detroit Public School League team in late February in preparation for the playoffs.
Before league play starts, Ypsilanti will play Saginaw (Class A state champs in 2007 and 2008) and Detroit Southeastern (2011 Class A runner up). Huron will play Saginaw and Saginaw Arthur Hill, the 2006 Class A state champs.
These out-of-conference schedules remind me of former Chelsea High School wrestler Dakota Cooley's 60-0 state championship season in 2009-10. Cooley won a Division 2 state title at 140 pounds, but during the regular season would wrestle as high as the 160-pound weight class, depending on who the other team's best wrestler was.
Cooley wanted to go undefeated. But even more so he wanted to be a state champion. Facing tougher competition that sometimes outweighed him by more than 10 pounds made the former goal more difficult, but it was with the intention accomplishing the goal that was far more paramount: being a state champion.
It was beating the best to be the best…at its best.
Do Huron and Ypsilanti run a greater risk of losing games by going out of their way to play the heavyweight programs of Michigan high school basketball? Absolutely.
But to be the best, that's exactly what they need to do.
Pete Cunningham covers sports for AnnArbor.com. He can be reached at petercunningham@annarbor.com or by phone at 734-623-2561. Follow him on Twitter @petcunningham.