Posted on
Sat, Jun 8, 2013 : 6:28 p.m.
Huron baseball ends season with 7-1 regional semifinal loss to Howell
By AnnArbor.com Freelance Journalist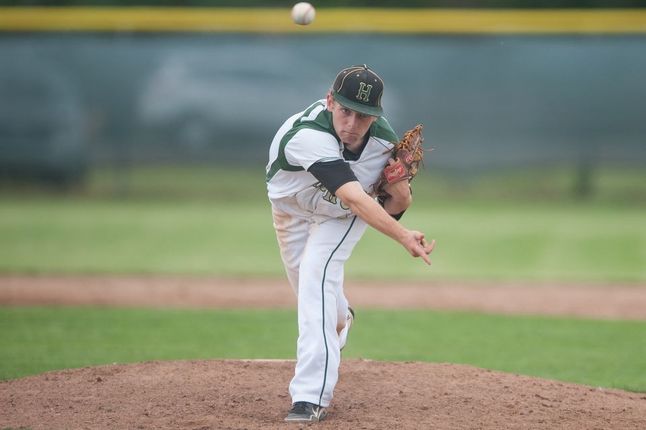 Courtney Sacco | AnnArbor.com file photo
By Kaleb Roedel for AnnArbor.com
GRAND LEDGE -- First district title in over five years. Second-most wins in program history. Area bragging rights.
It's been a season of highs for the Huron High School baseball team.
Unfortunately for the River Rats, a low point came in the MHSAA Division 1 regional semifinals against the Highlanders of Howell. Huron gave up three runs and committed two errors in the first inning on its way to a 7-1 loss Saturday at Grand Ledge High School's Gorman Field.
"I think maybe nerves was a little bit of that - I don't know - but a team like Howell, you just can't give them anything," Huron coach Terry Bigham said. "They're a tough team; they hit the ball very well and obviously took advantage of any mistakes we made against them."
And it didn't take long.
More coverage: Boxscore | Bracket
A single, a throwing error and a two-run homer were on the board just two batters in and Huron was on its heels. Four batters later, Huron starting pitcher Joe Cleary was replaced by Domenic DiGiovine with one out and the bases loaded. DiGiovine gave up a run but avoided major damage, pitching Howell into a doubleplay - shortstop Demetrius Sims scooped up a James Edwards chopper, stamped on second and threw out Edwards at first.
But DiGiovine struggled to settle in and find control with his pitches. He gave up five hits and four earned runs, hit four batters and walked three in six-and-two-thirds innings of work. Howell pushed its lead to 5-0 in the second inning on RBI hits by Arnold and Tyler Bradner.
"They were ready to play, bottom line, they were ready to come out," Huron senior Sims said. "We started off slow. We shoulda been able to come back from that, but it was tough."
Handcuffing the River Rats' bats all game long was Howell's ace Bradner who pitched a complete-game with just three hits, one walk and six strikeouts.
"They're pitcher did a great job," Bigham said. "He kept us off-balance, threw all his pitches for strikes, and has been good for them all year. We knew that we'd have to hold him tight to really give ourselves a chance."
Huron's Bobby Knutilla, Nasheed Bass and David Leipold accounted for the River Rats' three hits. Knutilla opened the third inning with an opposite field double, giving Huron its first sign of life, but Bradner quickly huffed out the spark with a groundout and pair of strikeouts.
"I thought we were going to settle in there for a little bit," Bigham added. "We actually had some chances early on. It seemed like every time we had something going they made a big play against us."
After Howell tacked on two more in the top of the fifth, Huron pushed across its lone run in the bottom of the frame when Jonathan Weatherspoon scored on a fielder's choice RBI by Sims. After Bass followed with a single, the River Rats wouldn't reach base again.
Despite the anticlimactic ending to their historic season, Bigham is proudly tipping his cap to his River Rats.
"Overall I'm really proud of these guys," Bigham said. "We won 24 games, which is tied for second overall in Huron (program history) and they did a great job all year. We had our ups and downs but they played hard every day. They worked hard in the offseason and really raised the bar for Huron baseball."
Added Sims: "It was a great year, we made history - winning districts, we hadn't won in about seven-eight years. It was a big year."