Posted on
Mon, May 13, 2013 : 11:29 p.m.
Huron baseball keeps things simple in doubleheader sweep of Pioneer
By Pete Cunningham
Huron High School baseball coach Terry Bigham tries not to complicate the task at-hand for his team's pitching staff.
Their assignment: throw strikes.
Seems simple enough, and it's exactly what they did on Monday. Wouldn't you know it, it led to a doubleheader sweep of crosstown rival Pioneer, 3-2 in the opener and 9-1 in the nightcap.
More coverage: Game 1 Boxscore | Game 2 Boxscore
Led up the middle by shortstop Demetrius Sims and centerfielder Nasheed Bass, Huron's defense made Pioneer earn every inch it took on the basepaths. Huron only committed two errors in the first game and didn't commit a single one in the second.
"We definitely have some speed in the outfield and up the middle…when our pitchers do throw strikes we seem to play very well," Bigham said. "That's been one of our issues this year is consistently throwing strikes and some of our pitchers have been getting behind in games."
Huron's pitchers didn't overwhelm Pioneer, but by just getting the ball in play, they played to their team's strength: its defense.
"Doug Mussio did an excellent job in the second game of throwing strikes, he had very few strikeouts, but he threw strikes," Bigham said. "He got a little tired there in the sixth inning, but he did a tremendous job letting our defense play and buying into the philosophy of just throwing the ball over the plate and letting us play behind him."
Mussio threw 5 2/3 innings with five strikeouts and three walks and allowed five hits. He had a 6-0 cushion to work with after Huron batted around the order in the bottom of the first inning. Bass - the third batter in the lineup - got the scoring going with a two-run double in the frame. The Pioneers (5-19) would give up three doubles, commit two errors and allow a walk in the first inning alone.
"When we make mistakes we can't kind of find the stopper, make the bleeding stop. We make a couple mistakes in that first inning of the second game and give up six runs instead of one or two runs," said Pioneer coach Jerry Holley. "One, two or three runs down, it's still a ball game, but six runs you really gotta battle and we're not scoring that many runs consistently."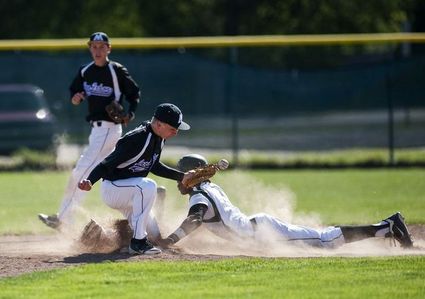 Daniel Brenner | AnnArbor.com file photo
Bass finished the game 2-for-3 with a pair of doubles, three steals, two runs and two RBIs.
Pioneer led off the sixth inning with a double and would eventually load the bases, but didn't muster any runs after Bruce Campbell came in and got Mussio out of the jam. Campbell retired all four batters he faced in relief.
"It's just kind of how the year's been. When you're 5-19, things don't go your way," Holley said. "I think we played well, had some opportunities, I think we left too many guys on base early and that's just been kind of the way the season's gone, though."
Fortune smiled Pioneer's way for most of the opener, but not at the end. After Huron pitcher Bobby Knutilla walked one batter and hit another, Ryan Kielczewski had a two RBI single to put Pioneer up 2-0 in the first inning. Knutilla calmed down after the first and ended up going the distance while only allowing three hits.
Knutilla did have six walks, but was able to spread them apart and settle down when runners were on base.
"I tried to ignore what happened in the past and focus on the next batter. I try to keep my head straight and focus on my mechanics and forget about that last batter," said Knutilla, who finished with eight strikeouts.
"I thought Bobby Knutilla did a great job for us in the first game of giving us a chance to win."
While Huron's bats were cold in the opener a well-executed hit-and-run in the sixth inning led to two runs, including what would prove to be the game-winner. While Pioneer may have led for five inning ands Huron only for 1 1/3, the River Rats chose their spot wisely.
"It's just the kind of way it's happened all year. Play hard the whole game, make a few mistakes and suddenly they put a few things together," Holley said.
Sims was 3-for-3 with two doubles, two steals and an RBI in the opener. Kielczewski struck out nine and gave up seven hits in six innings in a losing effort in the opener.
Pete Cunningham covers sports for AnnArbor.com. He can be reached at petercunningham@annarbor.com. Follow him on Twitter @petcunningham.