Posted on
Thu, May 9, 2013 : 11:05 a.m.
Huron boys golf scores nine-shot win over Pioneer and more Wednesday results
By Kyle Austin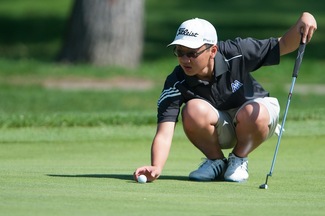 Courtney Sacco | AnnArbor.com file
Boy's Golf
Huron's Danny Langa and Reid McCallister each shot 1-over-par 37s at Leslie Park Golf Course, leading their team to a 153-164 win over Pioneer on Wednesday.
"We are getting a little bit better every time we go out, and this is the first time we've had three scores in the 30s," Huron coach Dee Drake said.
Guy Frydenlund shot a 39, and Nick Barlington had a 40. Huron improved to 8-0 overall, and 7-0 in the Southeast Conference Red.
Ted Xiao led Pioneer with a 4-over-par 40, and Davis Argersinger and Matthew Faunce each shot a 41. Sam Kidd had a 42.
Softball
Dexter 6, Lincoln 5; Lincoln 8, Dexter 4
Story | Boxscore
Dexter's Aubree Whitley hit a sacrifice fly to score Brooke Lupi in the bottom of the seventh inning. Taylor Pasamani hit a three-run home run.
"Taylor just hit a bullet," Dexter coach Mark Whitley said. "They left it over the dish and she hit a bullet. Her bat is really hot right now."
Dexter's Tasha Drinkard recorded six strikeouts pitching a complete game, while Lincoln's Emily Eickhoff allowed six runs on 12 hits.
Lincoln won Game 2 8-4, as Brooke Snyder pitched a complete game, allowing two runs on seven hits while recording two strikeouts.
Arielle Matthews led Lincoln with four hits and two RBIs, and Kiley Lafferty and Jessica Sanchez each recorded three hits.
Milan 5, Riverview 4
Story | Boxscore
Milan's Jade Sykes pitched a complete game and threw seven strikeouts in a 5-4 win against host Riverview in softball Wednesday.
Miranda Kush had two singles, and Courtney Craig had two RBIs.
Milan scored three runs in the first inning and added two runs in the third.
"We've been struggling this season, and we had a great game today," Milan co-coach Jen Johnson said. "We came out with three runs, which was great."
Boys Lacrosse
Grosse Pointe Woods University Liggett 5, Greeenhills 3
Story | Boxscore
Grosse Pointe Woods University Liggett scored three goals in a two-minute stretch in the first half and held on to defeat the visiting Ann Arbor Greenhills team 5-3 on Wednesday.
"It was one of those frustrating games," Greenhills coach Mike Costello said. "They played a good, solid defense and we couldn't really dodge that well."
John Lazarsfeld scored all three of Greenhills' goals, and Peter Paisley made 10 saves.
Kyle Austin covers sports for AnnArbor.com.