Posted on
Sat, Dec 15, 2012 : 11:03 p.m.
Huron boys notch first win of the season and more Saturday results
By Kyle Austin
This file will be updated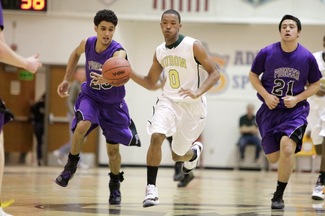 AnnArbor.com file
AnnArbor.com Washtenaw County Scoreboard:
Huron 92, Truman 66
Story | Boxscore
There was no shortage of points Saturday night, as Huron (1-1) excelled on offense and had 14 players score points.
Antonio Henry led Huron with 17 points scored, followed by Yontae Jackson, who scored 13.
Aaron Foster-Smith of Taylor Truman led all scorers with 32 points, and Dezain Newbill had 10.
"Our press ran very well tonight, and we forced 31 turnovers," Huron coach Waleed Samaha said. "A lot of those turned into easy buckets. I'm pleased with the way we moved and shot the ball."
Ypsilanti 52, North Farmington 32
Story | Boxscore
Lavonte Davis led Ypsilanti (1-1) with 20 points, nine rebounds and three blocks as the Phoenix improved to 1-1. Corey Allen added 13 points, four steals and three assists, and Jaylen Johnson had 10 points, nine rebounds, five assists and four steals.
"(Davis) is our only senior," Ypsilanti coach Steve Brooks said. "The only other guys with varsity experience are Janeau Joubert and (Johnson).
"Sometimes, (Johnson) thinks he is Magic Johnson, which is a good thing because he likes to pass a lot, but we want to get him to score more. He was a great decision maker tonight and did well against their press."
Holt 68, Pioneer 59
Pioneer falls to 0-2 on the season. Further details not available.
Girls Basketball
Ypsilanti 66, Ecorse 20
Story | Boxscore
Ypsilanti's Jasmine Jones scored 20 points and led the Phoenix (4-0) offense. Sydney Holmes had 10.
A dominant second half helped thrust Ypsilanti ahead of Ecorse (4-2).
Detroit Martin Luther King 56, Huron 48
Story | Boxscore
Ann Arbor Huron's Ariel Bethea had 22 points and eight rebounds.
Detroit Martin Luther King led 27-11 at halftime, but Huron (2-1) outscored them 22-11 in the third.
"Ariel was tremendous for us; she scored six of our 11 in the first half, so as poorly as we played, she kept us within striking defense," Ann Arbor Huron coach Steve Vinson said. "She was the dominant player on the floor during the second half. Defensively she was all over the place, and led the charge for our comeback. I can't say enough about her performance tonight."
Vinson added that his team was outplayed and outrebounded by Martin Luther King in the first half.
"They jumped out early on us," he said. "We just had too many turnovers, and they had too many rebounds. We dug ourselves a hole."
Arbor Prep 59, Flint Southwestern 39
Story | Boxscore
Amaka Chikwe led Ypsilanti Arbor Preparatory (4-2) with 16 points scored, followed by Jamie Rittenhouse, who scored 15 points. Natassja Chambers had five assists and five rebounds.
Although Arbor Prep was able to score a lot of points, it was its defense that helped create scoring opportunities.
"We went to a half-court trap in the second quarter and our girls played with a lot of energy," Arbor Prep coach Rod Wells said. "In the third quarter, we went on a run and put the game away.
"The full-court press we did really bothered them tonight," Wells added. "We had a desire to play defense tonight. The third quarter is what really turned the game, and that is when went on a 16-2 run."