Posted on
Sat, Jan 12, 2013 : 11 p.m.
Huron boys show off improvement in 60-37 win over Saline
By Kyle Austin
A little hard work over the holiday break can go a long way.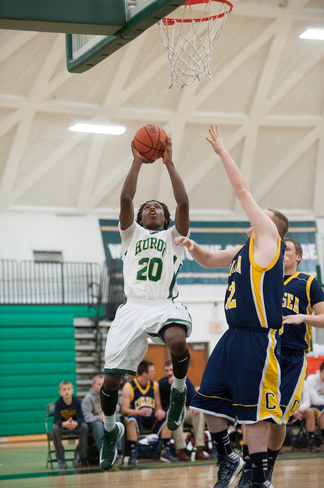 Courtney Sacco | AnnArbor.com
After going into break with a 19-point loss to Saginaw High, Huron came out of it with a dominating performance against Saline, winning 60-37 on the road Saturday night.
After Saline tied the game 5-5 early, Huron went on a 10-point run fueled by three 3-pointers and a free throw.
For the first half, Huron shot 55 percent from the floor and 38 percent from deep. It also forced nine turnovers while committing just one.
"It helps to be able to hit some shots early on the road," Huron coach Waleed Samaha said. "You can count on our guys to play hard defensively, and when you hit some shots I think you can play with a little more intensity on the defensive end."
Saline never got within 10 points after that, as Huron took a 14-point lead into halftime.
Xavier Cochran led Huron with 15 points, two short of his season high. Brian Walker finished with 13. Both Cochran and Walker are sophomores.
Cochran and Walker helped fill the void left by Huron's two leading scorers, Yontae Jackson and Antonio Henry, who both weren't with the team Saturday. Samaha didn't give specific reasons for their absences, saying only that it's a privilege to play in the program.
"We've seen guys make some great strides just in the last two weeks," Samaha said. "I think the break over the New Year really gave us a chance to get back in the gym and work on our development."
Even without a pair of key players, Huron (4-2, 2-0 SEC Red) showed Saturday how far it has come since a season-opening loss to Lincoln.
"We're improving every day," Samaha said. "I said at the beginning of the season that we would be a different team in March than we are at the beginning of the year, and we're getting better. We've got a long way to go, but I'm confident this group will get there."
For Saline coach Eric Williams, Saturday's loss proved that his team is "not as far as everybody else thought we were."
Point guard Reece Dils was held in check to seven points, while Max Recknagel led the team with 14.
The Hornets struggled to get through the Huron press, and couldn't find open shots for its sharpshooters after that. It also lost the rebounding battle, 27-19, leading to plenty of second-chance opportunities for Huron.
"I hope it stings, I hope it stings our guys a little bit," Williams said. "These are the teams that we want to beat. Huron, Bedford, Pioneer, Ypsi, they have shown that they are the best teams, and we want to be among the best teams."
Kyle Austin covers sports for AnnArbor.com. He can be reached at kyleaustin@annarbor.com or 734-623-2535. Follow him on Twitter @KAustin_AA.