Posted on
Sat, Dec 22, 2012 : 6:07 a.m.
Huron defense stellar in 71-35 win over Chelsea in boys basketball
By Matt Durr
With a little more than a minute to play in the first quarter, the Huron High School boys basketball team held a slim 15-11 lead over Chelsea and a fairly even game appeared a possibilty.
But over the course of the next 19 minutes, the River Rats surrendered just one field goal en route to a 71-35 win on their home court Friday night.
"What's great about this team is that we're breaking in 12 brand-new varsity players and they bought in 100 percent," said Huron coach Waleed Samaha. "It's great to see that."
Ernest Johnson led the way for the Rats with 19 points, five rebounds and three steals. Xavier Cochran added 17 as the duo outscored the Bulldog's entire team. Demetrius Sims was a force all night as well, scoring six points, grabbing five rebounds and hauling in five steals.
More coverage: Boxscore | Boys basketball roundup
"Demetrius as the kids say, 'he comes batteries included,'" Samaha said. "He just shows up and he just plays with such high energy. He doesn't care if he scores, he just plays hard."
The Bulldogs took an early 5-3 lead following a 3-pointer from Logan Brown, who led the Bulldogs with 11 points. Huron responded with a 10-0 run and never looked backed.
"I think we had a good game plan coming in, but as the game unfolds, it's a lot harder to stick to that game plan as they make the plays they made," said Chelsea coach Rourke Skelton. "I think that first quarter, we were trying to work together and the more pressure they put on us, the more splintered we got."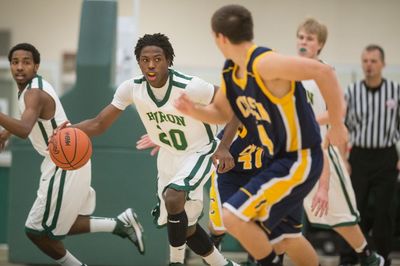 Courtney Sacco | AnnArbor.com
Chelsea (1-3) managed to make just eight field goals on the night as 17 of its 35 points came from the free-throw line.
Huron (3-1) outscored Chelsea 19-1 in the third quarter.
While he was happy with the win, Samaha said his team is far from being where he would like it to be, especially on the offensive end.
"We are still going to need to improve our half-court offense. It's still not where we want it to be, but we'll get there," Samaha said. "They're starting to get their confidence on the offensive side of the floor and I think that's what we're hoping to see as the season continues. We're not even close to what we're going to be come tournament time."
As the game unfolded, Samaha was able to empty his bench and get some playing time for everyone on the team. It's something they have been able to do all season and plan on doing as the season continues.
"Everything we do is predicated off of our defense, that's no secret. Most importantly, we win with tough, disciplined, high-character kids that do things the right way," Samaha said. "It's a pleasure to coach these guys because they work so hard in practice and to be able to reward the guys on the court during games is awesome."
Skelton said that despite losing by such a large margin, his club can learn a lot from the loss by simply looking at how Huron conducts itself.
"How to compete, how to play relentlessly, how to defend your home court and your basket. An excitement for the game and each other," Skelton said. "All those things were displayed by Huron tonight and that's why they're the team they are."
Matt Durr covers sports for AnnArbor.com.