Posted on
Fri, Nov 11, 2011 : 10:05 p.m.
All-Ann Arbor water polo state final looms as Huron and Pioneer advance to semis
By Matt Durr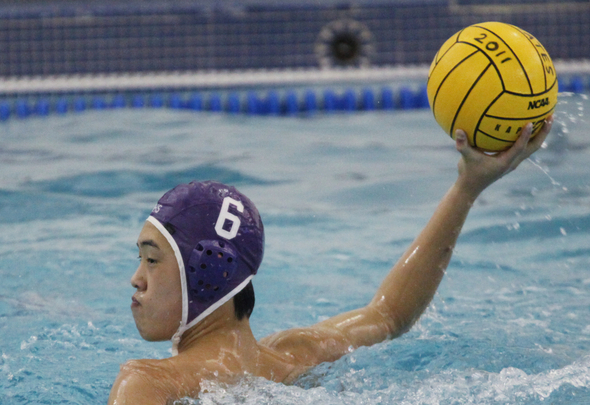 Jeff Sainlar I AnnArbor.com
Saturday's Michigan Water Polo Association state championship game very well may be an all-Ann Arbor affair on Saturday at Saline High School.
Huron and Pioneer both advanced past the quarterfinal stage on Friday -- Huron with a 13-5 win over East Kentwood, and Pioneer with a 12-5 win over Grandville -- and will play in opposite semifinals on Saturday, meaning the cross-town rivalry could once again have state-wide implications.
The teams last played each other in the state championship game in 2008, with Huron winning 6-5.
With nine seconds left to play in the first quarter of Huron's win over East Kentwood, senior Aleksandar Petrovich buried a shot into the back of the net to give the River Rats a 7-2 lead.
It was Petrovich's fifth goal of the game, as many as the outmatched East Kentwood squad would manage in the 13-5 River Rats win. The win sets up No. 2 ranked Huron for a semifinal showdown against top-ranked and two-time defending state champion Rockford on Saturday.
No. 3 ranked Pioneer will play in the other semifinal against fourth-ranked Hudsonville, which advanced after a 10-6 win over Dexter.
Despite Petrovich's brilliance in Huron's win, River Rats coach Justin Thoresen, refused to give credit to one individual after the 13-5 victory.
"It's a team game. Everything we do, we do as a team," Thoresen said. "You want to be selfless. It's important to make the extra pass."
Helping to feed Petrovich was freshman Holden Tamblyn, who had one goal and five assists. Senior captain Aaron Tisack chipped in with three goals as well.
Thoresen said his team is playing at it best right now, which it will need to against Rockford, who upset top-ranked Huron in last year's semifinal.
"They're a great team, great coaching, they always bring their 'A' game," said Thoresen. "I have a ton of respect for Rockford."
Rockford beat Skyline -- playing in its first-ever state tournament -- with a 14-2 quarterfinal win to advance to the semifinal.
"It's a team game and our team could have been better tonight," Dahlmann said. "They're very good on the counter attack and we helped fuel that with our poor passing."
If not for the play of Skyline goalie Alex Dewhirst , the outcome could have been even more lopsided. Dewhirst made 14 saves for the Eagles and even scored a goal late.
The Dreadnaughts were led by Matt Munzel, in a losing effort. Munzel scored three goals, while Mark Brown chipped in with two goals. Goaltender Ian Wilson had 11 saves.
"We just had a few mental breakdowns early on defense," said Dexter coach Brian Semple.
Dexter will take on Grandville and Skyline will face East Kentwood in Saturday's consolation bracket, which starts at 8 a.m. Pioneer and Huron's semifinal matches take place at 10:30 and 11:45 a.m. respectively.