Posted on
Mon, Nov 12, 2012 : 10:38 a.m.
Huron falls in water polo state championship, Holden Tamblyn named Player of the Year, tournament MVP
By AnnArbor.com Staff
EAST GRAND RAPIDS -- Rockford led start to finish, completed its second undefeated season and won its ninth boys water polo state championship since 2000 with a 14-8 win over Huron on Saturday.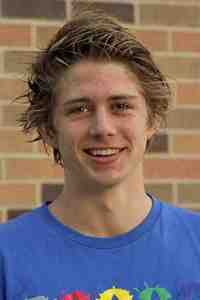 "This is perfect," Rams senior co-captain Justin Hulsebus said. "It's what I dreamt of all season."
Hulsebus and Reese Patino each had hat tricks, with Hulsebus adding an assist. Mike Arend, Nick Willison and Grant Beach each had two goals.
Related Coverage: Boxscore | Bracket
"It didn't matter to me how many goals I got," Hulsebus said. "We win as a team, and tonight I think we really showed that."
"The gameplan tonight was to play like we normally do," Rockford coach Dave McWatters said. "We played Huron a few times this season and it'd been back and forth, so we weren't sure what to expect."
The Rams scored first, with goals by Jacob Davis and Willison early. Huron's Holden Tamblyn answered with 1:42 remaining in the the first quarter. Tamblyn added goals in the second and third quarters.
Patrick Everett scored two goals for the River Rats and Alex Weiss had a goal and an assist.
Tamblyn received both Player of the Year and Tournament MVP honors for his performance this season and in this tournament.
"There are a lot of good players in this state, so to be honored by the coaches as one of the best is a real honor," Tamblyn said.
Huron coach Jason Thoresen called Tamblyn a one-of-a-kind player.
"Holden has the best work ethic, most drive and best attitude of any player I've coached," Thoresen said.
The senior co-captain also credited his team with a strong performance against Rockford's relentless play.
"We swam our hardest, and it was an outstanding effort tonight," Tamblyn said. "Sometimes we just didn't convert."
Huron, which fell to crosstown rival Pioneer in the state championship in 2011, finished 34-9.
"It's a bitter feeling, being here two years in a row, but I am so proud of this team," Thoresen said. "We were young, but the guys worked so hard. I really think that we exceeded a lot of expectations."