Posted on
Tue, Feb 12, 2013 : 8:52 p.m.
Huron falls to Clarkston and more Tuesday girls basketball results
By Pete Cunningham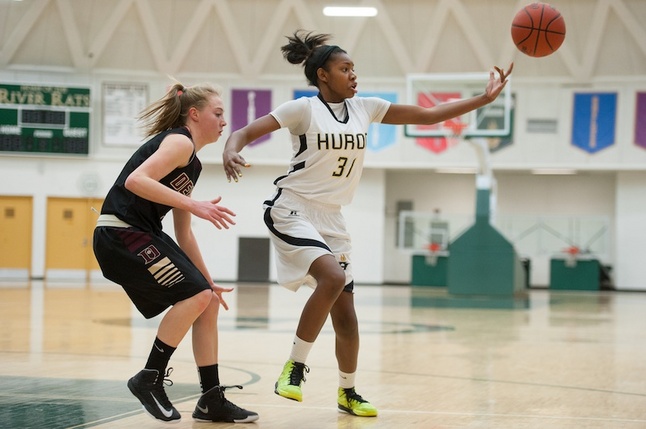 Courtney Sacco | AnnArbor.com file photo
This file will be updated throughout the night.
AnnArbor.com Washtenaw County girls basketball scoreboard:
Clarkston 49, Huron 37
Story | Boxscore
Clarkston outscored Huron 20-11 in the third quarter, erasing its 21-18 halftime deficit to enter the final eight minutes up 38-32.
Clarkston's Erica Davenport scored a game-high 16 points, and Ariel Bethea of Huron scored nine.
"They had a big third quarter on us, and they got the ball inside to Davenport" Huron coach Steve Vinson said. "We had a few missed assignments. The game just got away from us. We didn't have a good defensive third quarter."
Huron (11-5, 9-1 SEC Red) hosts Goodrich at 7 p.m. on Thursday, Feb. 14, and Vinson hopes his team will improve its shooting.
"We missed practice yesterday, and that hurt us," Vinson said. "We have to make our easy shots. We didn't finish our shots, they did."
Chandler Park Academy 52, Pioneer 40
Story | Boxscore
Jennifer Fichera and Brianna Worthing each scored 15 points to lead Ann Arbor Pioneer, which was outscored 34-15 in the second half by Chandler Park.
Pioneer (8-9, 3-7 SEC Red) will travel to Monroe on Friday for their next game.
Manchester 63, Vandercook Lake 16
Story | Boxscore
McKenna Erkfritz led Manchester with 14 points, and Jesse Coltre and Taylor Manders both added 11 as Manchester improved to 16-1 on the year (11-0 Cascades Conference).
Manchester has already clinched a tie for the conference title and can clinch it outright with a win on Thursday against Michigan Center.
"The girls don't want to share the league title," Castel said. "We shared it last year with Grass Lake which was great, but this year they're being kind of selfish. We can be selfish about that, but they're selfless when it comes to play."
Arbor Prep 70, Ecorse 23
Boxscore
Zakiya Wells scored 19 for the second night in row to lead Arbor Prep (15-4) for the second night in a win...for the second night in a row.
Morenci 39, Whitmore Lake 37
Story | Boxscore
Morenci outscored Whitmore Lake 15-10 in the final eight minutes, forcing the Trojans to rely on its final offensive possession to win the game.
"We called a timeout and great play set up to have an opportunity with 30 seconds left, but threw the ball away," Whitmore Lake (2-15, 2-11 Tri-County Conference) coach Jennifer Taylor said.
Hannah Jeffers of Morenci scored a game-high 16 points, and Whitmore Lake's Alyssa Milliman and Melissa Dreffs both scored 11, respectively.
Willow Run 34, Dearborn Advanced Tech 22
Story | Boxscore
Willow Run senior captain Samaria Gibbs scored 17 points, as the Flyers led 18-10 at halftime. Sarah Tubbs and Julia Holston each scored six for Willow Run (7-8, 3-2 MMAC)
"Our success starts with our defense, and Samaria helped lead the team," Willow Run coach Cliff Russell said. "She inspired other members of the team to do that. We played very good pressure defense throughout the game. When we do that, it works well for us. The girls have started to elevate their play."
Rudolf Steiner 55, Battle Creek Calhoun Christian 31
Boxscore
Anika Sproull scored 20 points to lead Rudolf Steiner (11-3, 6-0 Mid-South) in the win.
Pete Cunningham covers sports for AnnArbor.com. He can be reached at petercunningham@annarbor.com. Follow him on Twitter @petcunningham.