Posted on
Sat, Nov 3, 2012 : 5:59 a.m.
Huron, Gabriel Richard, Whitmore Lake and Rudolf Steiner win volleyball district titles
By AnnArbor.com Staff
AnnArbor.com Washtenaw County Scoreboard: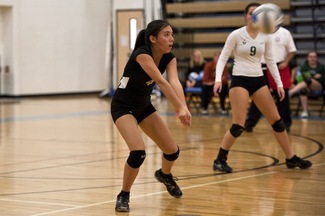 Joseph Tobianski | AnnArbor.com
Huron 3, Skyline 0
Story | Boxscore | Bracket
Huron's Kara Vyletel had 14 kills and teammate Kristen Vyletel had 15 digs, 13 kills and two aces as Huron won in straight sets 25-20, 25-21, 25-20 in a Class A district final.
It marks Huron's first district title since 1993.
Skyline's Danielle Sarns had eight kills and one ace and teammate Alexa Pinsky had 13 assists and 15 digs.
Huron will face Northville, which beat Novi 23-25, 25-4, 25-20, 25-15 on Friday, in a regional semifinal 5 p.m. Tuesday at Brighton.
Father Gabriel Richard 3, Livonia Ladywood 2
Story | Boxscore | Bracket
Even after losing the first two games and finding itself down 8-1 in the third, Gabriel Richard's volleyball team didn't consider its chances bleak in Friday's Class B district final.
That faith was rewarded in rallying for a 25-23 win in the third game, then winning 25-16 and 15-10 in the last two games.
The win sends Gabriel Richard into Tuesday's regional at Livonia Ladywood.
Emily Tanski had 24 kills, 11 digs, four blocks and two aces for Gabriel Richard. Malia Gabel had 29 digs, eight assists and three aces and Hannah Smith 18 kills, nine digs and four aces. Kiley Fravel had 10 kills, seven digs, four blocks and four aces, and Sam Tanski had 27 assists.
Whitmore Lake 3, Greenhills 2
Story | Boxscore | Bracket
Whitmore Lake beat Greenhills in five sets -- 26-24, 16-25, 12-25, 25-20, 16-14 -- to earn its district title. It will face Riverview Gabriel Richard in the regional semifinals at 7:00 pm on Tuesday, Nov. 6. The game will be hosted by Clinton High School.
Jackie Oestreitch led Greenhills with 26 kills and five blocks, while teammate Liz Lusk had 20 digs, 16 kills, and four aces. Sydney Bartell had 39 assists.
Rudolf Steiner 3, Saline Washtenaw Christian 0
Story | Boxscore | Bracket
Rudolf Steiner won 25-18, 22-25, 25-18, 25-21 to win its first volleyball district final in school history.
Sophomores Molly Rejewski had 15 kills, 14 digs and three aces and Erin Rejewski had 22 assists and five aces. Tessa Belanger and Jo Mathias-Porter each had 11 kills. Belanger had 16 digs four blocks and three aces. Mathias-Porter had 12 digs and two aces. Anika Sproull led the defense with 29 blocks.
"It was very intense tonight," Rudolf Steiner coach Alex Perrin said. "Saline Washtenaw Christian was impressive, tough and competitive with high dig totals and lots of long rallies."
Rudolf Steiner (39-9-5) will face Newport Lutheran South in the regional semifinal at 6 p.m. on Tuesday at Bellevue.