Posted on
Fri, May 17, 2013 : 8:32 p.m.
Huron girls and Saline's Mary Hanna win regional tennis titles
By Pete Cunningham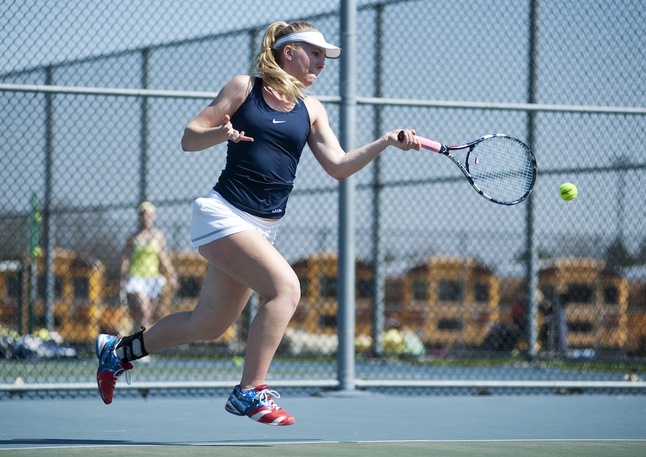 Daniel Brenner | AnnArbor.com file photo
CANTON - Saline senior
Mary Hanna
flashed a brief smile after wrapping up her an individual regional title on Friday at Plymouth-Canton Educational Park, but her smile was soon replaced by tears.
Hanna qualified for the Division 1 MHSAA tennis state finals as champion of the No. 1 singles flight, but she'll go alone after Saline finished with 17 team points, one shy of state qualification.
"It's really heartbreaking," Hanna said. "It was in the back of my mind the whole time. It was just really disappointing for me to keep playing even though I knew my team was hurting."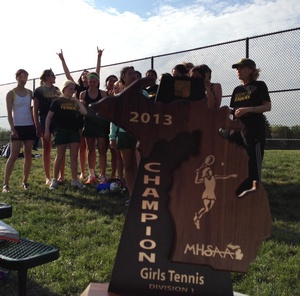 Pete Cunningham | AnnArbor.com
It is the first time in eight years Saline didn't qualify as a team.
"We had some chances, but just couldn't convert it. It's a little disappointing, but the girls played hard all season," said Saline coach Andy BeDell.
Hanna beat Huron's Isabel Zheng 6-0, 6-1 in the final. Despite being disappointed for her team, Hanna was satisfied with her own play.
"I think I played pretty well today, so moving forward I think I can build on what I did today in states and I think it can work out for me," Hanna said.
The No. 1 flight was the only singles flight Huron didn't win as the River Rats won the the regional title convincingly, scoring 29 points. Huron advanced to all eight finals, winning five.
More coverage: Boxscore
"Everybody's doing really well," said Zheng, who likes her team's prospects for the state championships in two weeks. "I think we have as good a chance as anybody."
Pioneer finished runner-up with 21 points. Huron and Pioneer went head-to-head in every doubles flight final and No. 4 singles, where Catherine Chou defeated Sejani Desai 6-3, 7-5.
The crosstown rivals split in doubles play with Huron taking the even flights (No. 2 and No. 4) and Pioneer the odd, making for an exciting end to a long day for the two teams.
"These finals matches against Pioneer have been just awesome," said Huron coach Robbie Risdon. "It was fun to watch, really fun to watch from everybody."
Pioneer coach Tom "Brick" Pullen believes his team missed some opportunities to get in good position at the state meet.
"We needed to win a couple more matches to get some good seeds at the state meet, and that's why I'm disappointed," Pullen said. "Four doubles I think could have put it away better, but Huron doubles played very well, I gotta give them all the credit there."
Skyline finished the tournament in fourth place with 15 points and Lincoln had a single point.
Chelsea advances
The Chelsea High School girls tennis team advanced to he Division 2 state tournament on Friday after finishing runner up in a regional at Chelsea High School. Chelsea put up 21 points, and got flight championships from Rachel Kaiz and Sarah Obernoitzer at No. 1 doubles and Sam Jabara and Jordan Jacobs at No. 3 doubles.
"It's been a long time since we've gone to state as a team two years in a row," said Chelsea coach Matt Pedlow. "It really caps off a great year for us.
"I'm hoping we can have some success at the state meet, as well."
Trainer taken to hospital
There was a scary moment during the trophy ceremony when an athletic trainer working the event, Todd Miller, collapsed to the ground shaking as though he were having a seizure. A Pioneer parent, who is also a physician, attended to Miller until emergency responders arrived. Miller was conscious and responding to questions when ambulances took him to the hospital. Miller had been working at the outdoor tournament since 9 a.m. and the episode occurred around 6 p.m. Temperatures reached 75 degrees on Friday.
Pete Cunningham covers sports for AnnArbor.com. He can be reached at petercunningham@annarbor.com. Follow him on Twitter @petcunningham.