Posted on
Fri, Mar 16, 2012 : 4:31 p.m.
Huron girls basketball team loses state semifinal to Grosse Pointe South, 44-41
By Matt Durr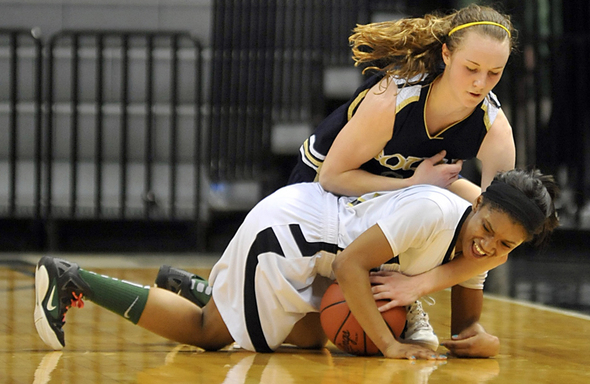 Katie Greene | MLive.com
This story has been updated.
EAST LANSING - Bianca Williams stood at the 3-point line on the floor of the Breslin Center, her team trailing by one point and 7 seconds on the clock.
Her shot soared through the air, but bounced off the rim and into the hands of Grosse Pointe South's Claire DeBoer.
"It felt rushed, but I thought it was going to go in when it was in the air," Williams said. "It just didn't fall the way I wanted it to, obviously."
The River Rats' historic season came to an end Friday afternoon when they lost 44-41 in a Class A state semifinal Friday. No previous Huron team had advanced past the quarterfinal round.
"It was a good look by Bianca. We wanted to shoot the ball early enough so that if we did miss, we gave ourselves the chance to get the rebound," Huron coach Steve Vinson said. "I'm satisfied with the look we got, but that's not the play we drew up."
Williams shot early enough to leave Huron enough time for a miracle.
After the missed shot, DeBoer made two free throws. Huron's Ariel Bethea missed a desperation half-court shot at the buzzer.
"It was a great season, it was a remarkable season. We've overcome a lot of obstacles," Vinson said. "To be here in this situation is a great accomplishment. We're very disappointed that we're not playing tomorrow."
More coverage from MLive.com: Video | Boxscore | Live chat replay | Class A bracket
The River Rats (21-6) stormed back from being down 38-29 with 6:46 left in the game by forcing eight turnovers in the final quarter. They also held South without a field goal in the final 4:39 of the game.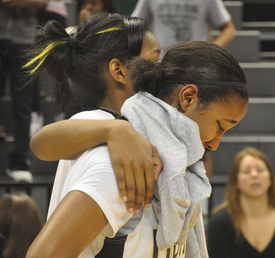 Jared Purcell | MLive.com
"We were down, and I think there was some desperation there, too. Our kids got after it a little bit more defensively," Vinson said. "Our game plan was to pressure them and wear them down. We just dug ourselves too deep of a hole, and we could never quite get back up."
Huron shot 36 percent from the floor and turned the ball over 22 times. After scoring 15 points in the opening quarter, the River Rats managed only 14 in the next two quarters.
"(Grosse Pointe South) switches up their defenses on the fly. That's part of their game plan, to not let you get any kind of rhythm and they're successful at it," Vinson said. "I definitely would have hoped we would have taken better care of the basketball."
Eventually, Huron got on track as Williams scored 11 of her team-high 14 points in the second half. Bethea added 11 points off the bench, and Logan Sims scored nine to round out Huron's leaders.
DeBoer led all scorers with 16 points.
Besides turnovers, Vinson said missed free throws contributed to the loss. The River Rats shot 54 percent from the line and missed three crucial attempts in the final 2 minutes with the team trailing by three points.
Having just finished the deepest run by any Huron team, Bethea and Williams both looked back on the season with pride.
"The first day of practice, we knew we had to practice really hard to get to where we got today and to where we wanted to be," Bethea said. "We worked really hard; it just didn't go our way today."
Williams said the team accomplished what it wanted to do -- make history.
"This is huge to us … it doesn't take anything away from it," she said.
South (23-3) will play No. 1-ranked Grand Haven (26-1) in the state championship game at noon Saturday. Grand Haven held off a late rally to beat defending champion Inkster 43-40 in the first Class A semifinal.