Posted on
Thu, Mar 8, 2012 : 5:40 a.m.
Huron girls basketball hungry to push the pace against Hartland in Class A regional
By Michael Florek
Huron High School girls basketball coach Steve Vinson sat in the last row of the Farmington High School gym.
After winning the early Class A regional semifinal game on Tuesday night, Vinson watched the nightcap, already with a gameplan in his head for whoever his River Rats would meet in the final.
Vinson calmly watched Hartland mount a last-minute comeback to earn the right to play Huron at 6 p.m. Thursday, and filmed the entire game. At no point did anything on the court affect any main ideas he had of what he wanted to do.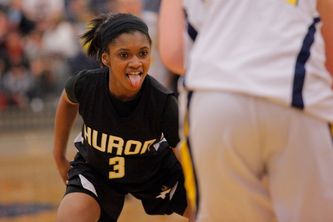 Chris Asadian | AnnArbor.com
Huron will play the same high-pressure defense it always does, looking for turnovers to convert into easy baskets on the other end.
"I think it's hard to go against our pressure no matter who you are," Vinson said.
In the Eagles' case, he's right, according to Hartland coach Don Palmer. The River Rats' high-pressure, up-tempo game is what worries him the most. Controlling the pace is likely to be the determining outcome.
"They're just ungodly athletic," Palmer said. "I think there's going to be some instances where you have to go because they're going to make you go, but if we get into a track meet with them for 32 minutes, we're not going to win."
Both coaches said they knew "a little" of their next opponents. After watching Hartland's Bailee Maggert lead her team with 12 points and sink two-free throws down the stretch to ice the game, Vinson had singled her out as a "great basketball player," while noting the whole team does the little things well.
"We know Hartland's a smart team," Vinson said. "They rebound the ball pretty well. We're going to have to play smart basketball."
More regional previews: Father Gabriel Richard vs. Marshall | Manchester vs. Riverview Gabriel Richard
In its regional semifinal win against West Bloomfield, it was an admitted lack of smarts that got Huron in trouble in the fourth quarter. Bad turnovers and poor shot selection allowed the Lakers to cut a 10-point lead down to three as the game headed into the final minutes.
But Huron survived and because it did, it will have one more calm head on the floor on Thursday. After leaving the district final due to a flagrant foul, which by rule also forced her to sit out the next game, leading scorer Devin Talley will be back in the lineup on Thursday
Vinson and players alike cited getting Talley at least one more game as motivation coming into Tuesday's contest. Talley watched from the semifinal from the bench, doing "everything except playing." And after the game, the chance for one more opportunity wasn't lost on the senior.
"I'm so excited," Talley said. "I was so happy, really happy."
Contact Michael Florek at michaelflorek@annarbor.com.