Posted on
Thu, Dec 13, 2012 : 5:45 a.m.
Huron coach to bench two players against state power Detroit Country Day for skipping class
By Matt Durr
Prior to the beginning of the girls basketball season, Huron High School girls basketball coach Steve Vinson openly reprimanded two players from his team for skipping class. As a result they were not allowed to practice with the team that day.
"This is serious," Vinson told the team that day. "These rules will be enforced."
Apparently the message was not received, and now the punishments will affect the team as they take on state powerhouse Detroit Country Day Thursday night. Once again, two players were caught missing class and Vinson is punishing them.
"Certain things are more important than wins and losses," Vinson said. "We'll just kind of play it by ear and see how it goes tomorrow. They're certainly not going to play as much as they would have."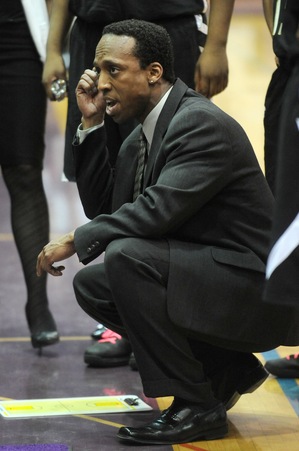 Annarbor.com file photo
Huron team rules state that if a player misses a practice before a game, they will not be allowed to start the game and usually the player is only used on as needed during the game.
"This is a real issue, you can't play basketball if you don't go to class. That's the bottom line," Vinson said.
As Wednesday's practice wound down, Vinson admitted that not having two of his players with "high basketball IQs" in practice hurt his team.
"It's a big game, but in the grand scheme of things, the world won't end if we don't win tomorrow," Vinson said.
During the practice the team spent a lot of time working on a variety of sets they expect to see from Country Day including presses, zones and traps. With the season still relatively young, Vinson is still more concerned about the X's and O's than wins and losses.
"I'm just hoping we make some progress in terms execution. Making sure that with our game plan, that we follow our game plan.
"Last year they killed us in transition and their guards, once they get the ball they're fast, they're quick and they can score," Vinson said. "We have to make sure our floor is balanced and we have to get back in transition defense. And today we're not doing that very well."
Detroit Country Day is 1-2 on the season, but is coming off a state quarterfinal appearance.
Huron opened the season with a 55-24 win last week over Salem.
Tip off for Thursday's game is at 7 p.m. at Country Day.