Posted on
Thu, Jan 17, 2013 : 10:29 p.m.
Huron girls start fast and finish strong in 60-37 win over rival Pioneer
By Pete Cunningham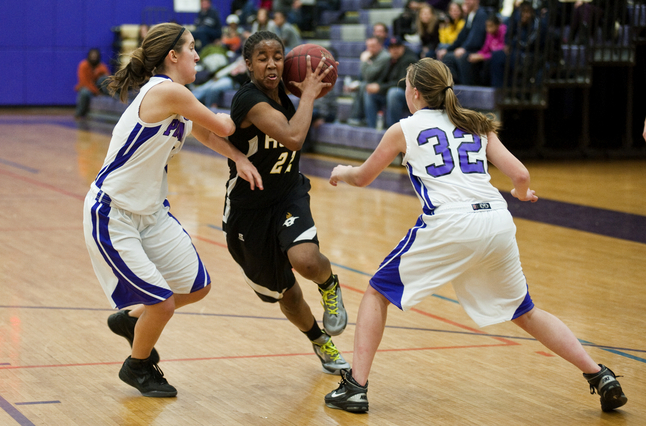 Joseph Tobianski | AnnArbor.com
For the middle two quarters on Thursday night, the Pioneer and
Huron
girls basketball teams looked relatively evenly matched, going back and fourth and only separated by a single 3-pointer.
But the beginning and end of the game were a completely different story as Huron bookended the cross-town rivalry game with dominant quarters littered with Pioneer turnovers and fast break Huron baskets, all fueled by the high pressure defense of the River Rats.
The fast start and strong finish led to 60-37 Huron win in the Southeastern Conference Red division matchup at Pioneer High School.
Huron's high-octane defense has been its calling card for years, but preparing for it and being ready for it are completely different animals said Pioneer coach Crystal Westfield.
"Even the best teams around here that are athletic, they don't put that kind of pressure and have that athletic ability," Westfield said. "We know we'll get that type of pressure from Huron every single year that they do it and our girls just aren't used (to it).
"We don't play teams that put that kind of pressure on us."
The pressure paid early dividends for the River Rats who started the game on an 8-0 run and forced turnovers on Pioneer's first five possessions. Pioneer didn't get a shot off until more than three minutes into the game.
More coverage: Boxscore | Photo Gallery
Bianca Williams scored seven of Huron's first eight points. Williams said getting starts like they had on Thursday needs to be more the norm for the River Rats (6-4, 4-1 SEC Red)
"That's something we have to work on because we like coming in like next half or third (quarter) or whatever," said Williams who finished with 16 points on the night. Williams credited the hot start to, "just amping our own selves up and just playing."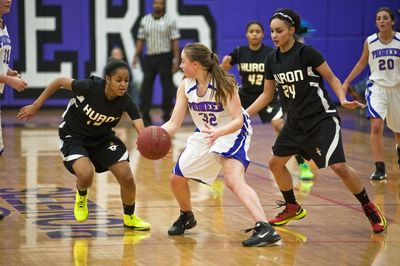 Joseph Tobianski | AnnArbor.com
But after committing 11 turnovers in the first quarter, Pioneer had just four in the second and actually outscored Huron 12-10 in the frame. Had it not been for the eight missed free throws, Huron's 29-21 halftime lead would have been even less.
Pioneer was 7-of-15 from the line in the first half, and 8-of-10 the rest of the way. After the turnover-riddled first quarter, Pioneer had just 13 in the final three combined.
"Once we settled them down and told them remember the drills that we've worked on, they took better care of the ball," Westfield said adding she thought the atypical performance from the free-throw line was due to "jitters" from the rivalry.
Huron's defensive pressure returned in the third quarter as Pioneer went scoreless for 6:17 in the midst of an 0-for-11 shooting drought. But Huron had its own struggles from the field and failed to pull away in large part due to going 0-for-5 from beyond the arc to start the quarter.
Payton Sims hit a 3-pointer at the end of the quarter to give Huron its first three since the 4:50 mark of the second quarter.
Huron coach Steve Vinson didn't mind seeing his girls shoot through their struggles.
"If they have the open shot I'm going to allow them to shoot it," Vinson said. "Payton (Sims) for example is a great shooter, she missed two or three of her first threes but she made that last one at the end of the third quarter and it actually turned out to be a pretty big shot for us because they had the momentum and I think that three gave us the momentum going into the fourth quarter."
Huron made its first five shots from the field in the fourth and pulled away down the stretch.
Vinson liked what he saw in the second half overall from his team
"Our defensive intensity was much better I thought in the second half we just got in some foul trouble and I contributed to that a little bit," Vinson said in reference to a technical foul he received while disputing the foul disparity.
Ariel Bethea's seven free throws were all Huron shot on the night as she went 5-for-7 and finished with a game-high 18 points. Pioneer shot 25 free throws on the night and was led in scoring by Jennifer Fichera who had 12 points. Desiree Cougill scored 11.
AnnArbor.com Washtenaw County Girls Basketball Scoreboard
Manchester 43, Napoleon 23
Story | Boxscore
Monroe St. Mary Catholic Central 50, Milan 21
Story | Boxscore
Pete Cunningham covers sports for AnnArbor.com. He can be reached at petercunningham@annarbor.com. Follow him on Twitter @petcunningham.