Posted on
Thu, Aug 9, 2012 : 6:36 p.m.
Huron water polo team elated as alum Betsey Armstrong leads Team USA to gold
By Pete Cunningham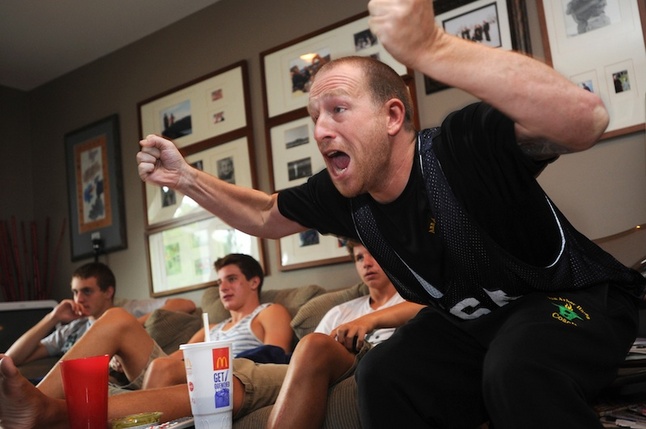 Melanie Maxwell | AnnArbor.com

After an hour-and-a-half of agony, Huron High School water polo coach Justin Thoresen finally allowed himself a moment of relief.
He clapped his hands loudly and yelled at the television one last time, as if his childhood friend Betsey Armstrong could actually hear him while leading the U.S. women's water polo team to Olympic gold over Spain on Thursday.
Armstrong -- a 2001 Huron graduate -- started in goal for the U.S. and had just wrapped up an 8-5 win, but it seemed as if Thoresen would soon have the gold medal draped around his neck.
"Way to go Bets," Thoresen said with an elated smile on his face, a current crop of Huron boys water polo players joining him in applause. Several team members, having just begun practice for the fall season, gathered at current player Grey Garrett's home to cheer Armstrong and Team USA on to gold.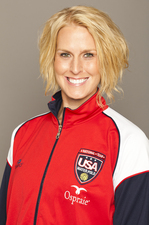 Thoresen was the most animated of the group, which was fodder for his players, who would tease their coach for his celebrations.
Thoresen didn't care, proud to wear his emotions on his sleeve.
"When you have a friend in the Olympics, you'll understand," Thoresen told his players.
Armstrong gave Thoresen and the players plenty cheer about on Thursday and throughout the tournament. After recording the highest save percentage of any goalie in the tournament, including eight saves against Spain, Armstrong was named goalie of the tournament.
She added a punctuation to that in the fourth quarter, saving a penalty shot early in the frame to preserve a 7-2 lead.
Even the "too cool" teenagers couldn't contain themselves after that save, erupting in celebration and missing the Armstrong-led counter attack that resulted in the Americans' final goal.
"It gives me shivers every time I see her play," Thoresen said.
Thoresen -- who was a year behind Armstrong at Huron and played for the same youth clubs growing up -- takes pride in seeing her represent the Ann Arbor water polo community at the highest level.
"It's almost selfish, but I just feel like she's an extension of the Ann Arbor polo players and when I see her it just makes me proud that she's representing us," he said.
Huron assistant coach Trevor McIlwaine, who played at Pioneer, recalled scrimmaging against Armstrong during the offseason in high school as the time ticked down to the gold medal match. Not surprisingly, McIlwaine recalled her being who you wanted defending your goal in the co-ed matches.
Though not as nervous as his colleague, McIlwaine shared Thoresen's enthusiasm.
"It's pretty cool to have a hometown girl win a gold medal," McIlwaine said.
Armstrong won a silver medal with the U.S. in 2008. In an interview immediately after the game when asked if she might attempt to play in the 2016 Rio de Jeneiro Olympics, Armstrong said, "this might be it for me."
It would certainly be a great game to end a career on. In the immediate, she'll join the University of Michigan women's water polo team as an assistant coach, which both Thoresen and McIlwaine see as a huge benefit for the area.
"Having Betsey there is a huge draw ... I'll definitely send our goalies to Michigan's camps," Thoresen said. "Everyone's looking forward to what she'll do at Michigan and for the area."
Pete Cunningham covers sports for AnnArbor.com. Contact him at petercunningham@annarbor.com or by phone at 734-623-2561. Follow him on Twitter @petcunningham.