Posted on
Wed, Jan 16, 2013 : 12:07 a.m.
Huron knocks off first-place Temperance Bedford and more Tuesday night results
By Kyle Austin
This file will be updated throughout the night
AnnArbor.com Washtenaw County Scoreboard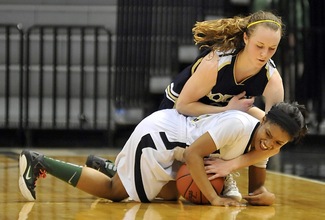 AnnArbor.com file
Huron 55, Temperance Bedford 23
Story | Boxscore
Huron (5-4, 3-1 SEC Red) got off to a fast start leading 10-1 after the first quarter, and 27-8 at halftime.
Kamala Glenn led Huron with 12 points, and Payton Sims added 11 points. Bianca Williams finished with 10 points.
"We played tremendous defense in the first half, which has been a focus as of late," said Huron coach Steve Vinson. "Getting off to a fast start was important in order to keep their crowd out of the game."
Dexter 60, Adrian 20
Story | Boxscore
Makenzie Svihra led Dexter (10-1, 4-0 SEC White) with 17 points. Teammate Emma Kill had 11.
Dexter's defense used strong pressure to contain the Adrian offense.
"We were able to use our defensive pressure to create turnovers," Dexter coach Mike Bavineau said. "We had a lot of quality scoring chances."
"We played a regular man-to-man defense, and we really tried to get out and pressure the ball handlers and stay in the passing lanes."
Chelsea 62, Ypsilanti 43
Story | Boxscore
Riley Singleton led Chelsea with 16 points, senior point guard Grace Sauers and Nichole Robbins each scored 12 and Melissa Robards added 10 points.
"Grace Sauers did a nice job controlling the tempo," Chelsea coach Todd Blomquist said. "She made the extra pass and got her teammates involved."
Cara Easley led Ypsilanti (5-3, 1-3 SEC White) with nine points.
Chelsea (6-3, 4-0 SEC White) led 19-8 after the first quarter.
"We took control of the game early," Blomquist said. "We pressured them and got some easy buckets, and we were able to break their press."
Lincoln 37, Tecumseh 26
Story | Boxscore
Lincoln's Katelyn Morris had 12 points and eight rebounds, and Jaslynn Rollins had six points, 13 rebounds and seven blocks.
Lincoln (9-2, 3-1 SEC White) led 19-8 at halftime, shutting out Tecumseh in the second quarter.
"We definitely established our defense early, and that helped us win the game," Lincoln coach Mike Foley said. "Our defense actually slowed the game down with so we were able to get good shots."
Greenhills 56, Petersburg Summerfield 53
Story | Boxscore
Senior Jackie Oestreich had 25 points to lead Greenhills (4-4, 3-1 MIAC), eight rebounds and four blocks, and Sabrina Wu had 14 points.
Oestreich scored 12 points in the first quarter, while Wu had five field goals and was 4-for-5 from the free-throw line.
Harper Woods 71, Willow Run 19
Story | Boxscore
Mica Miner led Harper Woods with 19 points, Mica White added 16 points and LeAnte Larkins and Tabriel Cooks each scored 11.
Samaria Gibbs led Willow Run (3-5) with seven points.
"Harper Woods played very well," Ypsilanti Willow Run coach Cliff Russell said. "We weren't able to maintain or aggressiveness or physical stamina, as a coach and team that's something we need to work on.
Grass Lake 54, Whitmore Lake 22
Story | Boxscore
Grass Lake used an 18-4 run in the third quarter, after taking a 27-13 halftime lead, to secure its seventh win.
Alyssa Milliman led Whitmore Lake (2-8, 2-3 Tri-County) with nine points.
Arbor Prep 62, Belleville 16
Story | Boxscore
Amaka Cikwe led Arbor Prep (8-3) to a road win with 17 points, and Jamie Rittenhouse and Nastassja Chambers each added 12 in the win.
"Our girls played real great pressure defense and forced turnovers," Arbor Prep coach Rod Wells said. "We've been emphasizing playing good team defense, and they're starting to understand what we're talking about."
AnnArbor.com Coverage