Posted on
Tue, Dec 27, 2011 : 9:22 p.m.
Huron senior Mike Lewis scores 25 points in River Rats' overtime win against River Rouge
By Rich Rezler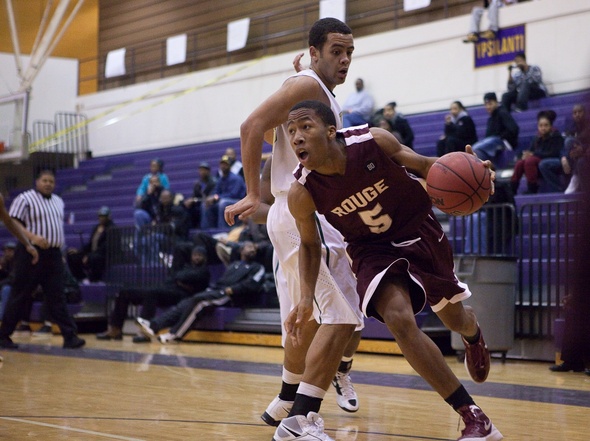 Chris Asadian | AnnArbor.com
River Rouge senior James Walker slammed through his second fast break dunk in a 25-second span and Huron High School basketball coach Waleed Samaha had seen enough.
Samaha walked to the end of his bench, summoned four freshmen and emphatically waved his senior starters off the court.
"I just said, if we're going to look ugly, I'm going to do it with freshmen," Samaha said. "I'm not going to look ugly with seniors that know better."
The seniors weren't there long -- Samaha granted them the prerogative to check themselves back in, and they did so quickly -- but the message was sent.
The Tuesday night game never turned into a thing of beauty, but the River Rats did escape with a hard-fought, 58-56 overtime win against River Rouge at the Metro Detroit Basketball Coaches Association Christmas Tournament at Ypsilanti High School.
"It's going to be like that for us this year. There's going to be some ups and downs with a lot of new players trying to find their roles and learning how to play the game at this level," Samaha said. "There's times we'll look really good and times we look really bad. Hopefully the times we look really good outweigh the times we look really bad, but they're both coming."
More coverage: Photo gallery | Boxscore
That brief sequestering on the bench was the only breather Huron senior forward Mike Lewis received during the game. And the River Rats needed every one of the game-high 34 minutes and 25 points he recorded before fouling out in overtime.
From the 4-minute mark of the second quarter to the 7-minute mark of the fourth quarter, Lewis scored 18 of Huron's 27 points as the River Rats turned a 22-14 deficit into a 41-40 lead. His NBA-range 3-pointer put Huron ahead for the first time since the opening minutes of the game.
"He's a mentally and physically tough kid," Samaha said of Lewis, the team's only returning starter from last season. "And he really cares about winning and doing it the right way. We're lucky to have him on our team."
Huron seemed to put the game away late in fourth quarter, taking a 51-44 lead on a Demetrius Sims drive with 1:44 left to play. River Rouge again flustered Huron with its press, however, and closed regulation on a 7-0 run to force overtime.
The extra four-minute session was essentially a free throw-shooting contest, with Huron scoring all seven of its points from the line and River Rouge splitting three sets of free throw opportunities before an Albert Hill drive with 9 seconds remaining cut Huron's lead to 57-56.
Sims split a pair of free throws with 5 seconds left and River Rouge didn't get a shot off before time expired.
The game concluded the first day of the four-day tournament at Ypsilanti, which the River Rats wrap up with a 7 p.m. game against Saginaw High on Friday. The host Phoenix beat Westland John Glenn in the first game. (See complete schedule below.)
When the seniors checked back in, the worst was behind Huron. The River Rats (2-2) had missed their first seven shots, turned the ball over repeatedly against River Rouge's full-court pressure and fell behind by as many as 11 points (18-7) early in the second quarter.
Senior guard Allen Thomas (13 points) and junior guard Ernest Johnson (6 points) each hit 3-pointers to pull Huron within four points midway through the second quarter and the game was tightly contested from that point.
Foul trouble helped impede the River Rats, with senior guards Andre Bond and Marcus Buggs spending long stretches of time on the bench after picking up their third fouls early in the second quarter. Both eventually fouled out with just two points apiece.
Huron was whistled for 26 fouls, but River Rouge didn't capitalize. The Panthers went 16-of-37 from the line compared to 17-of-31 for Huron.
"It really came down to executing against each others' pressure. Both teams made enough mistakes to give the other team a chance to win it," Samaha said. "We were lucky to come out on top."
Metro Detroit Basketball Coaches Association Christmas Tournament
All games at Ypsilanti High School

TUESDAY'S RESULTS
Ypsilanti 49, Westland John Glenn 35
Detroit Finney 39, Windsor Forster 37
Saginaw Arthur Hill 79, Detroit Southeastern 69
Huron 58, River Rouge 56 (OT)

WEDNESDAY'S GAMES
1 p.m. - Mattawan vs. Detroit Finney
2:30 p.m. - Detroit Kettering vs. Windsor Forster
4 p.m. - Detroit Crockett vs. Milwaukee Morse Marshall
5:30 p.m. - Chandler Park Academy vs. Detroit Consortium
7 p.m. - Detroit Community vs. Dearborn Heights Robichaud

THURSDAY'S GAMES
1 p.m. - Taylor Truman vs. Detroit Western
2:30 p.m. - Detroit Northwestern vs. Milwaukee Morse Marshall
4 p.m. - Saginaw vs. Detroit Denby
5:30 p.m. - Detroit Henry Ford vs. Ecorse
7 p.m. - Ypsilanti vs. Detroit CMA

FRIDAY'S GAMES
1 p.m. - Westland John Glenn vs. Grosse Pointe South
2:30 p.m. - Flint Northwestern vs. Detroit Osborn
4 p.m. - Detroit Mumford vs. Saginaw Buena Vista
5:30 p.m. - Detroit Community vs. Milwaukee Young Groggs Prep
7 p.m. - Huron vs. Saginaw