Posted on
Fri, May 10, 2013 : 11:09 p.m.
Huron, Skyline girls water polo teams easily advance past district play
By Pete Cunningham
Both the Huron and Skyline girls water polo teams had no trouble advancing to the regional round of the Michigan Water Polo Association state tournament on Friday.
With both teams receiving byes in the first round of the 10-team District 3 and 6 tournament, they only needed one win apiece to extend their respective seasons.
It took Skyline a little less than quarter to do all it needed to secure is spot in regionals. Huron: less than a minute.
Jamie Hibbs scored a pair of goals in the first minute of play and it proved to be all Huron (28-2) would need in its 18-1 win over Mason. The senior captain would finish with a hat trick in the first quarter, while seven other River Rats players took over the goal-scoring from there. Lucy Moran and Mary Claire Chamberlain led the way for Huron with four goals apiece.
More coverage: Huron vs. Okemos Boxscore | Skyline vs. East Lansing Boxscore | District bracket
"This game was great we had really good teamwork," Hibbs said. "I think the communication and chemistry working up to this week was really good."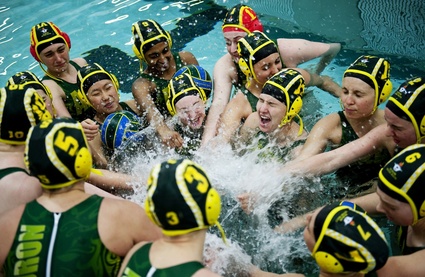 Daniel Brenner | AnnArbor.com
Huron advances to the semifinal round, which will be played at Huron High School on Saturday, to play Grand Blanc, which beat Grand Ledge 4-3 on Friday. The winner of that semifinal will play the winner of top-seeded Okemos and Skyline.
Four teams advance out of each every district tournament
Huron coach Justin Thoresen said he's not looking past Grand Blanc, but should his team advance he wouldn't be surprised to see the crosstown rival Eagles in the finals rather than the favored Chiefs.
Okemos beat Walled Lake 17-5 and Skyline beat East Lansing 10-4. Skyline jumped to an early 6-0 lead and coasted from there. Kim Graziano led the way for Skyline with three first quarter goals.
"It'll be interesting to watch that Okemos, Skyline game. I think it's going to be a great game. I think it will be a one-goal game," Thoresen said. "We're prepared and excited to play either."
Okemos gave Huron its only two losses of the regular season and Hibbs is excited about the possibility of facing the Chiefs again.
"We've been preparing for the game and I think it'll be a great challenge for us," Hibbs said.
Saturday's semifinal round will begin at 10:30 a.m. with the finals scheduled for 4:45 p.m.
Pete Cunningham covers sports for AnnArbor.com. He can be reached at petercunningham@annarbor.com. Follow him on Twitter @petcunningham.