Posted on
Fri, Feb 8, 2013 : 5:50 a.m.
Huron student and aspiring sportswriter to host basketball live chat during Huron vs. Pioneer game
By Pete Cunningham
Can't make Friday's Pioneer vs. Huron high school basketball doubleheader? Don't worry, AnnArbor.com and Huron senior Luke Johns have you covered.
The Pioneer and Huron boys and girls basketball teams will face each other for the conclusion of their regular season and AnnArbor.com will be running a live chat from the doubleheader on Friday hosted by Huron senior, Luke Johns.
Johns reached out to us at AnnArbor.com a few weeks back curious about the world of sports journalism and has agreed to chat from the games in order to gain some experience.
Below is a little bit of information on Luke. Click here to check out the chat right around 5:30 for updates from the games. The girls start a 5:30 p.m. and the boys at 7 p.m.
Name: Luke Johns.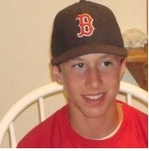 Age:
18.
Grade:
Senior.
School:
Huron High School.
College plans:
Still undecided, but will major in journalism.
Why do you want to be a journalist?
Because I have found it is something that I'm good at, and I enjoy writing about my interests.

What about sports journalism is particularly enticing to you?

It gives me the opportunity to watch a lot of sports, and give me inside access that the average fan likely would never have.
What journalists or writers do you enjoy reading the most?

Gordon Edes, Kevin Paul DuPont, Dan Shaughnessy, Chris Casper, John U Bacon, and Mike Wilbon.

Do you play any sports?

Baseball.

You're a Huron High School student, is this chat going to be totally biased toward Huron?

No. From what I understand of the job discription, I will report the facts and not express rooting interest.
Pete Cunningham covers sports for AnnArbor.com. Contact him at petercunningham@annarbor.com. Follow him on Twitter @petcunningham.