Posted on
Wed, Mar 9, 2011 : 11:51 p.m.
Huron survives third meeting with Pioneer, 56-52, advances to Class A district final
By Pete Cunningham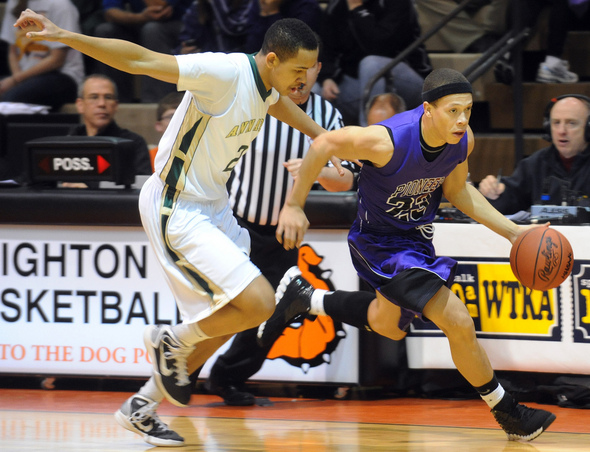 Melanie Maxwell | AnnArbor.com
BRIGHTON -- Pioneer point guard Jimmy Holman dribbled the ball just past half court as the Huron defenders - set in a 2-3 zone - stood in their defensive stances, both challenging the other to make the first move.
Ten seconds passed. Then 30. Then a minute as each side stared the other down. The scoreboard at Brighton High School read 22-22 halfway through the second quarter of a Class A district semifinal game, which may as well have been high noon in the Old West.
It may have taken until the third time the teams met this season for it to happen, but the Huron versus Pioneer rivalry finally lived up to its reputation on Wednesday night
In its first game decided by less than 10 points since mid-January, Huron prevailed 56-52 to advance to Friday's district final. The River Rats (20-1) will play Skyline (12-10), which beat Dexter 46-35 in the night's early semifinal.
Melanie Maxwell is a photographer for AnnArbor.com. She can be reached at melaniemaxwell@annarbor.com. Follow AnnArbor.com photography on Facebook at AnnArbor.com Photo and on Twitter at @AnnArborPhoto.