Posted on
Fri, Jan 25, 2013 : 11:07 p.m.
Huron tops Skyline, Pioneer falls to Bedford and more Friday night results
By AnnArbor.com Staff
AnnArbor.com Washtenaw County Scoreboard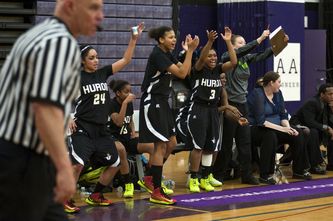 Joseph Tobianski | AnnArbor.com
Huron 62, Skyline 20
Story
|
Boxscore
Visiting Skyline started the game well, keeping up with Huron and ending the first quarter in a 10-10 tie.
The tight game didn't last much longer.
Huron (7-4, 5-1 SEC Red) took a 28-15 lead by halftime and cruised to the win. All 12 players on the River Rats' roster scored, led by Auzhane King's game-high nine points. Ariel Bethea added seven points, seven rebounds and four steals.
"Twelve girls scoring is the most we've ever had," Huron coach Steve Vinson said. "A lot of our scoring was ignited by our defense. We got steals and easy buckets, and we had 10 free throws in the third (quarter)."
Huron outscored Skyline 23-3 in the third quarter.
Mai Morris and Anita Vandermuelen led Skyline (5-8, 0-6 SEC Red) with seven and six points, respectively.
Temperance Bedford 39, Pioneer 33
Story | Boxscore
Pioneer had the SEC's first-place team on the ropes, leading the Kicking Mules 27-26 after three quarters. However, Bedford (10-3, 5-1 SEC Red) clinched a victory by hitting 7-of-9 free-throw attempts in the final quarter while limiting the Pioneers (7-5, 2-4 SEC Red) to just six points.
"I think it was our mental mistakes," Pioneer coach Crystal Westfield said. "We were fouling, we were not smart on defense and we were handing them the game. My kids had mental lapses that were hurting them in the fourth quarter."
Desiree Cougill led Pioneer with 12 points. Bedford's Rachel Lewandowski scored a game-high 15.
Ypsilanti 53, Adrian 27
Story | Boxscore
Jasmine Jones eclipsed the 20-point mark for the second time this season, leading Ypsilanti (7-5, 2-4 SEC White) with 21 points. Tori Amison (10 points) also reached double-digits for the Phoenix. Ten Ypsilanti players scored.
Chelsea 56, Lincoln 28
Story | Boxscore
Bailey Darwin scored 19 points to lead Chelsea to a big Southeastern Conference road win at Lincoln. Both teams were 4-1 in SEC White play entering the game.
Riley Singleton contributed 12 points and five blocks, while Melissa Robards scored 10 points for the Bulldogs (8-4, 5-1 SEC White). Dominique Foley led Lincoln (10-3, 4-2 SEC White) with nine points.
Chelsea, which led 25-19 at halftime, made 15 of 19 free throws on the night.
Dexter 54, Tecumseh 27
Story | Boxscore
Teia McGahey scored 14 points and Taylor Olson added 12 to lead Dexter (12-1, 6-0) to the SEC White road win.
Dexter coach Mike Bavineau said his team tries to establish a tempo to the game and the Dreadnaughts did that early on Friday, taking a 19-9 lead after one quarter.
Bloomfield Hills Marian 58, Father Gabriel Richard 17
Marian (12-2) led 36-7 at halftime. Gabriel Richard fell to 2-11 on the season.
Washtenaw Christian 39, Monroe Meadow Montessori 12
Story | Boxscore
Sophomore Michaela Donat scored a game-high 13 points and eighth grader Jurnee Tipton contributed 15 rebounds, eight points and six steals to lead Saline Washtenaw Christian (4-5).
Willow Run 2, Melvindale AB&T 0
Willow Run earned the win after Melvindale Academy for Business & Technology was unable to field a complete team for the game. The Flyers (5-6) play next Tuesday at Hamtramck.
Saline 51, Monroe 27
Details not available.
Novi Franklin Road Christian 47, Greenhills 42
Details not available.
Rudolf Steiner 59, Lansing New Covenant 15
Details not available.
Game of the Week

Our Game of the Week voting is coming down to the wire between the Saline-Pioneer boys game and the Dexter-Lincoln girls game. Voting closes at noon Saturday.