Posted on
Mon, Aug 26, 2013 : 4:33 p.m.
Huron volleyball starts season with a redemptive win and more notes
By Kyle Austin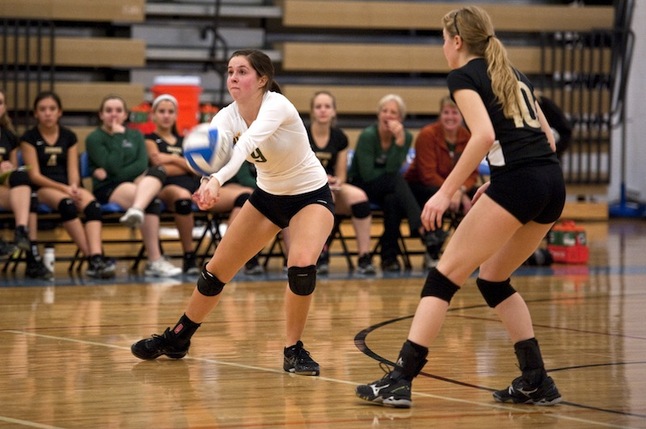 Joseph Tobianski | AnnArbor.com
Huron started its 2013 volleyball season just four days after it finished tryouts, and coach Toney Cummer said he wanted to use the Father Gabriel Richard tournament Saturday to see where his team stood.
By the end of the tournament, he had a good idea.
The River Rats beat Northville in the finals, 25-18, 25-12, to start its season 4-0-1. Northville is the team that knocked Huron out of the playoffs in 2012, ending a season in which Huron had a school record 49 wins against six losses, while reaching the regional semifinals.
"I was impressed with the leadership from our seniors and our returning players were solid when we needed them to be," Cummer said. "Our new setters (Julie Barnett and Kim Ayleen) did a particularly good job of stepping into that role today."
The finals win came after Huron went 2-0-1 in pool play, including a split against Northville, to open its 2013 season.
The River Rats' tournament win was a highlight from the the first week of fall sports competition, which officially got underway Wednesday with girls golf and boys tennis competitions. Cross country, boys soccer, girls swimming and volleyball followed two days later. Water polo also started its season last week, ahead of football kicking off this Thursday.
Every Monday throughout the fall, we'll be taking a look at some of the top performances, teams and players from the week that was in Ann Arbor-area high school sports, in our "Fall Frenzy."
Penalty kicks win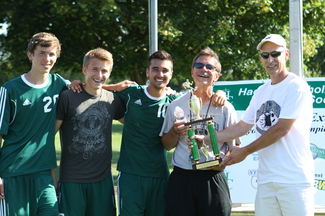 Courtesy of Julie Harpenau
The Huron volleyball team wasn't the only area team to start its season by slaying a state power in a tournament final.
The Father Gabriel Richard boys soccer team went 3-0 at the Kalamazoo Hackett tournament Saturday. After a 4-1 win over Vicksburg to open the weekend, the Irish topped Hackett 1-0 and Williamston, 2-1 on penalty kicks in the final.
Williamston was the Division 3 state runner-up last year, while Gabriel Richard finished just 5-10-5.
Athletes of the Week
Emily White, Saline girls golf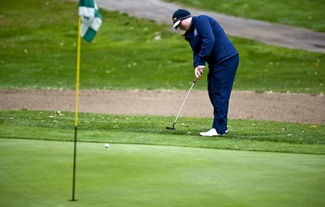 Joseph Tobianski | AnnArbor.com
White started her season with a 71 in the Milford Invitational Wednesday to earn medalist honors, and followed up with another 71 the following day at the Pioneer Invitational to again earn medalist honors. Saline finished as runners-up in both tournaments. White is a two-time All-State golfer who finished sixth at last year's state finals.
Alex Lasinski, Skyline boys soccer
Lasinski scored a hat trick in a 5-2 Saturday win over Petoskey to help Skyline go 1-0-2 in the Traverse City tournament over the weekend. Lasinski was named honorable mention All-State last year
By the numbers
16: Goals scored by the Pioneer boys water polo in their season-opener against Skyline last week, a 16-6 win.
24: Margin of victory, in strokes, for the Pioneer girls golf team at the Tecumseh Invite Friday.
7: Second-half goals by Chelsea boys soccer Friday in an 8-1 win over Manchester.
6: Combined state titles in the last four years between the Huron and Midland Dow boys tennis teams, who faced off Saturday in the Ann Arbor Invite. Huron, the two-time defending Division 1 state champions, edged Midland Dow by two points.
16: Number of teams in the Ann Arbor Early Bird water polo tournament, which took place over two days. Huron finished 3-1, falling to Rockford, 8-6, in a rematch of last year's state title game.
Potent Quotable
"This isn't really a rebuilding year, but it's just filling in the holes from last year. It's a side that could be comparable to last year or even better."
-- Dexter boys soccer coach Scott Forrester after his team's season-opening 3-0 win over Hartland Friday.
Kyle Austin covers sports for AnnArbor.com. He can be reached at kyleaustin@annarbor.com or 734-623-2535. Follow him on Twitter @KAustin_AA.